Graham Reid | | <1 min read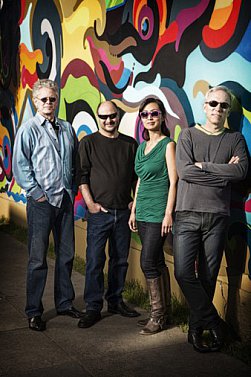 For many decades the Kronos Quartet has been commissioning, performing and recording material by contemporary composers, but also adapting rock classics (JImi Hendrix's Purple Haze) and world music to their will.
We're not going very far back into the Vaults for this one, their version of Fela Anikulapo Kuti's classic Afrobeat song Sorrow Tears and blood about opression in NIgeria during the Seventies.
This piece was on the album Red Hot and Fela which raised funds for Aids research -- Fela died of Aids releated illnesses, this is the second Red Hot tribute to him -- and Stuart Bogie (saxophonist with Antibalas and Superhuman Happiness) appears alongside Kype Malone and Tunde Adebimpe of TV on the Radio on the Kronos version of this song.
It doesn't have much of the drive and urgency of Fela's fiery original but we post it here just for your interest.
Also on that Red Hot and Fela album were Questlove, Angelique Kidjo, My Morning Jacket and others who undertook their own versions of Fela songs.
For more oddities, one-offs or songs with an interesting backstory check the massive back-catalogue at From the Vaults.
.