Graham Reid | | 1 min read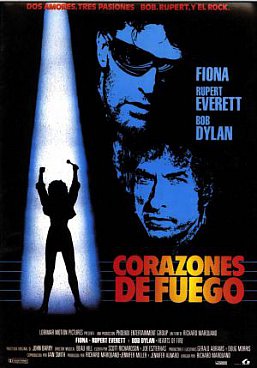 Although in these days of online-everything there could be very few Bob Dylan songs described as rare, this one isn't too readily available . . . unless you have the soundtrack to the Eighties film Hearts of Fire on which it appeared.
The movie itself -- in which Dylan plays an elusive and reclusive rock star, in very bad Eighties clothes -- was widely disparaged and didn't even get theatrical release in the US. The phrase "straight to video" is the one you use about it.
Dylan contributed three songs to the soundtrack and this --a bristling cover of a John Hiatt song -- is highly noteworthy, especially given the parlous state of his career at the time.
This was the late Eighties and the Knocked Out Loaded/Down in the Groove period. As Elsewhere has previously noted, every now and again a few rock writers put their heads together and try to offer up Dylan's lost decade as worthy of reconsideration.
Actually even when you try very, very hard there's still not a lot to be said for his albums in the Eighties, but yes . . . we concede there were the odd gems (largely unreleased at the time as the Bootleg Series Vol 1-3 proved).
But here is one song worth discovering.
Dylan turns in a vigorous and engaged performance, and it has -- so far -- not appeared on any of the albums under his own name.
It's enough to make you want to go and find his theme song to the movie Band of the Hand.
Ho ho ho.
For a consideration of Bob Dylan's film career go here.
For more oddities, one-offs or songs with an interesting backstory check the massive back-catalogue at From the Vaults.
.