Graham Reid | | <1 min read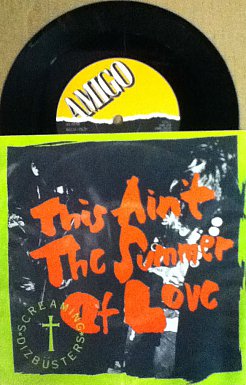 Elsewhere's been down this side alley before with songs from a terrific double CD compilation A Real Cool Time Revisited; Swedish Punk, Pop and Garage Rock 1982-1989.
The album is only available at the Abba/Swedish Music Hall of Fame Museum in Stockholm . . . a place realy worth more time than you might thing, Aba is only half of it if you take the time to explore the fine print in the rest of the place.
If you've got any pals in Stockholm ask themn to get along and get you copy even though the liner ntes are only in Swedish. And get them to pick you up a copy of the pre-Abba solo stuff by A-B-B and A.
They won't mind, it right near the Spritmuseum dedicated to booze.
And then you can play stuff like this, this and this very loud.
The odd thing about This Ain't the Summer of Love is this . . . wouldn't Sweden (considered a very liberal society in terms of sexual matters back in the Sixties) have had a lot more time to enjoy a summer of love?
In summer they get about 18 hours of sunlight.
So this was obviously recorded in a post-punk winter when they only get about four hours.
I'll leave it over to you to figure any connection to the Blue Oyster Cult song below.
For more one-off or unusual songs with an interesting backstory see From the Vaults.