Graham Reid | | <1 min read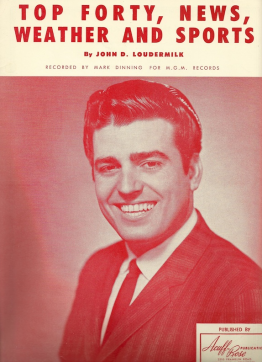 The rather sad Mark Dinning has appeared at From the Vaults previously because he was the voice on the great death ballad Teen Angel of '59 which had been written by his sister Jean.
That's a classic, but this isn't because it was recorded when his career was on the skids after that initial flush of success and the alcoholism which it allowed him.
If there's anything interesting about this non-hit is that is was written by the great JD Loudermilk who penned such rock'n'roll era classics Tobacco Road (which the Blues MAgoos turned into a psyche-out trip in '66), Talk Back Trembling Lips (a huge hit for Johnny Tillitson), Sad Movies Always Make Me Cry and then in the later Sixties the hit Indian Reservation (for Paul Revere and the Raiders).
Loudermilk's songs were recorded by Roy Orbison, the Everly Brothers, Chet Atkins, Mose Allison and Glen Campbell among may others.
But only Mark Dinning recorded this one . . . which oddly enough went to number 17 on the Australian charts, but was ignored everywhere else.
What did the Australians hear in this very American-centric song that no one else did?
For other one-off songs with a bit of history or an interesting back-story see From the Vaults.