Graham Reid | | 1 min read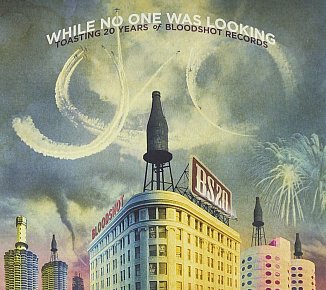 There are some beautifully simplistic but uplifting songs about being young between Cliff Richards' Young Ones in the early Sixties and Supergrass' Alright ("we are young, we run free") in the Nineties.
It's not all running free as a teenager however (just check out Janis Ian's pained At Seventeen) and there is quite a body of work about that too,
Quite what Ryan Adams was aiming at with his song To Be Young (Is to Be Sad, Is to be High) which appeared on his Heartbreaker album in 2000 is rather more ambiguous. The title says it however, and like Neil Young's Old Man and Cat Stevens' Father and Son it seems to shift narrative perspective, or the narrator shifts the telescope.
This even more countrified version comes from Portland's Blitzen Trapper who have frequently received good notices at Elsewhere.
This however comes from the double disc While No One Was Looking: Toasting 20 Years of Bloodshot Records on which many Elsewhere favourites as diverse as Chuck Prophet, Hiss Golden Messenger, Shakey Graves, Frank Turner, the Handsome Family and Mike Watt cover music by the likes of other Elsewhere favourites such as Andre Williams, Robbie Fulks, Waco Brothers, Neko Case, Wayne Hancock, Alejandro Escovedo . . .
As with all such collections -- available in New Zealand through Southbound -- it can throw curves at you, but it's interesting to see that four of the artists picked Ryan Adams songs from Heartbreaker. No one else even came close to get that many covers.
That's got to tell you something about that debut album under his own name, and the good taste of these artists.
For more unusual music or songs with a back-story see From the Vaults.