Graham Reid | | 1 min read
Although they hit their peak when the American bands fought back against the British Invasion in the mid Sixties, Jay and the Americans always seemed like a band from an earlier era with their big ballad hit Cara Mia.
In fact they were, they'd been around since the late Fifites in some form or other and their sound was rooted in Italian ballads and the close harmony style of the Four Freshmen. They'd had a hit in '62 with the big weepy She Cried (which was later covered to equally overwrought effect by PJ Proby).
It was a couple years before they stormed the charts again with Come a Little Bit Closer written by Boyce and Hart (later to write for the Monkees) and Wes Farrell who wrote Boys and Hang on Sloopy. Then Cara Mia (which was co-written by Mantovani).
In '68 when the world was going day-glo and psychedelic Jay and the Americans recorded an album of old favourites like This Magic Moment, My Prayer and Mean Woman Blues.
So Jay and the Americans (Jay being John Traynor who, when the group split in '73, contunued to perform under the band name) were never cutting edge . . . although in an interesting footnote those admirers of older styles of songwriting and jazz Donald Fagen and Walter Becker (of Steely Dan) were in their touring band at the start of the Seventies.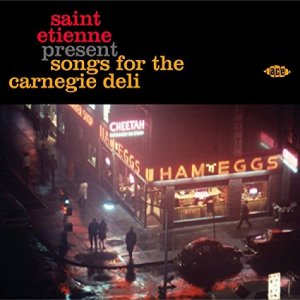 This track -- full of their signature strings, harmony vocals, melodrama and Jay's confident voice -- appeared on the excellent album Saint Etienne Present Songs for the Carnegie Deli, a 24-song collection of oddities and oldies compiled by SE's Pete Wiggs and Bob Stanley (on Ace, through Border in New Zealand).
Jay and the Americans are alongside Irma Thomas, Chuck Jackson, Little Anthony and the Imperials, the Chiffons, Lesley Gore and many others, some of whom are forgotten greats.
The Etienne's Stanley says his first encounter of New York was the Brill Building and the Carnegie Deli where he fancied what kind of music must have played there back when the singers, songwriters and song pluggers ate their motza ball soup and sipped coffee.
These may well have been on the Deli's jukebox.
For more one-offs, songs with an interesting backstory or just plain odd things see From the Vaults.