Graham Reid | | 4 min read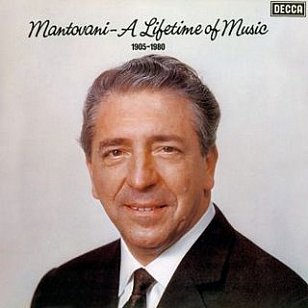 In later years he might have looked like an extra from The Sopranos (when smiling maybe a restaurateur, when sullen certainly a hit man) but orchestra-leader Annunzio Mantovani was one the most popular light entertainers of his era -- which was the period before rock'n'roll hit in the mid Fifties.
Most people today would quickly dismiss his sweetly orchestrated albums -- yes, they do often sound like the kind of music played in the ward in One Flew Over The Cuckoo's Nest to further lull semi-comatose patients.
But anyone who pays careful attention can hear a whole lot more going on.
The string arrangements are sublime, and I once described his signature tune Charmaine to a friend as exactly the kind of music I would want to hear if I was floating warm, naked and weightless in space.
There is an ethereal, gravity-defying sound to Mantovani music which is quite extraordinary -- and you don't have to draw too long a bow to make the connection with the ambient music of Brian Eno or some of the translucent music on albums on Eno's Obscure label in the mid Seventies.
Mantovani played popular tunes -- Greensleeves, If I Loved You, As Time Goes By, Moulin Rouge, Summertime -- and was at his best when the melodies were effortless and almost innocuous. That allowed him reign for deft and understated arrangements, and for the listener not to be seduced into tracking an unheard lyric in their head.
Which is why Charmaine is such a beautiful piece.
It all got a bit silly however when he did things like Swedish Rhapsody ("high on a hill stood a lonely goatherd", that one!) and sometimes you wish you had the footage of Grace Kelly on a dance floor just to complete the connection with his most romantic music.
This sounds like somewhat underselling the product (light classical MOR strings? Hmmm) but Mantovani's arrangements are singular and distinctive. They even warrant their own definition in many dictionaries of popular music. And for that we must credit composer/arranger Ronnie Binge who was to Mantovani what Nelson Riddle was to Sinatra.
Mantovani was born in Venice and could boast excellent pedigree: his father was concertmaster of La Scala under Toscanini. The family moved to England just before World War One and the young Annunzio studied at Trinity College in London. After he graduated he formed his own orchestra (in Birmingham of all places, but these were the days before television when orchestras could regularly fill concert halls) and he also directed musicals.
He met the gifted Binge who had been a cinema organist, and together they created what became Mantovani's aural fingerprint: the sound of "cascading strings" heard to sublime effect on Charmaine (think: naked, warm, weightless in space).
Binge was the more important and inventive arranger of the two, but the swooning sound he developed became known widely as "the Mantovani sound" -- even after he moved on and when Mantovani, recognising a winning formula, kept on with the subtle style.
The strings swell and retreat, often seem to evaporate in the air, and then gently surge forward once more. The idea was to mimic the sound you might hear in a huge cathedral (or when floating in outer space?) and Binge's technique employed large string sections playing as if slightly sneaking up one another. The result was a broad, almost echoing, sound which also allowed for a single instrument to take prominence.
There is another relevant link to Eno's intelligent ambient music -- often so meticulously recorded that it is used in studios to test sonic reproduction -- in that Mantovani albums were often employed to demonstrate the possibilities of the then-new stereo hi-fi equipment. Sort of surroundsound.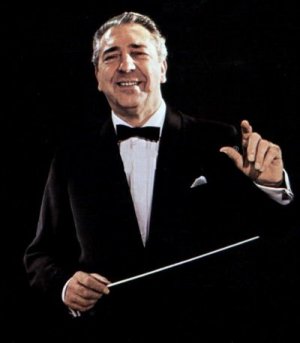 As with so many musical perfectionists, Mantovani retired from performances and concentrated on being a studio artist. He had huge selling albums and even after his death in 1980 an orchestra under his name continued to tour to great acclaim.
He was also one of the few in his musical world to be known just by one name. As with Bono, Madonna, Prince and Beck, he was always just "Mantovani".
His repertoire was largely drawn from Broadway, the Great American Songbook and film music. But so has been that of many other orchestra leaders.
What set Mantovani apart -- then and now -- is not just the overt romanticism which today recalls a bygone era when people dressed for dinner or to go the movies and everyone could foxtrot at the drop of a top hat or white glove, but his beautiful arrangements: catch the opening bars of Forgotten Dreams which could almost be music from a royal court in some far flung universe (the vibes conjuring up a Forbidden Planet, the simple piano line seducing with each turn); or the ebb and flow of the strings on the extraordinary and timeless Almost There (recorded when Jefferson Airplane and the Grateful Dead stalked the planet) . . .
Or those gorgeous opening phrases of Charmaine where the strings are impossibly high and swoop down slowly before couples take to a polished dance floor and the camera shifts to a melancholy moment on the balcony as she puts a cigarette in her long holder and he, with immaculately groomed moustache and buttonhole in his tuxedo, pulls out his lighter and the courtship begins . . .
No one makes evocative music like Mantovani any more. But then again no one ever did.
It was always only him . . . and that made, and makes, him very special.
Turn off your mind, relax and float downstream . . .
I want Charmaine (and the Byrds' She Don't Care About Time) played at my funeral . . .
These Essential Elsewhere pages deliberately point to albums which you might not have thought of, or have even heard . . .
But they might just open a door into a new kind of music, or an artist you didn't know of.
Or someone you may have thought was just plain boring.
But here is the way into a new/interesting/different music . . .
Jump in.The deep end won't be out of your depth . . .