Graham Reid | | 1 min read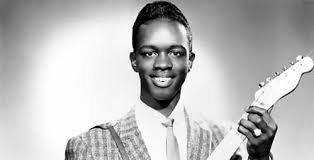 It's become common to hail Fifties out-there guitarists like surf king Dick Dale, Link Wray and others . . . but the man who became the great Johnny "Guitar" Watson has been somewhat sidelined.
In the mid-to-late Seventies this journeyman -- who had done the hard roads with Little Richard, the wonderful rock'n'roll/soul shouter Larry Williams, Johnny Otis and many other greats -- toned down his incendiary playing (just a bit) and started flicking out terrific albums in the dancefloor/pre-disco era like Ain't That a Bitch ('76) and Elsewhere's personal favourite Funk Beyond the Call of Duty the following year.
Watson could do it all -- old school and new soul, blues, funk, r'n'b, disco-dance etc -- and his admirers included everyone from Etta James and Bobby Womack to Frank Zappa, Pearl Jam and Steve Miller . . . and beyond.
And Watson -- who died in Japan '96 while touring, age 61 -- was an exceptional singer alongside his cross-genre guitar playing.
But it's the latter on display here, many years before others . . . and if you know the reference hear how he quotes from the theme to the TV show Dragnet.
In this miniature - which anticipates Hendrix/BB King/Ennio Morricone/Telstar -- he also throws in a little pre-Peter Frampton for y'all when he makes his machine talk.
And . . . he was just 19 at the time . . . which is why Johnny Guitar Watson was billed as "Young John Watson" on this single.
But even then he was a Guitar, Beyond The Call of Duty.
For more one-off, oddities or songs with an interesting backstory check the daily postings at From the Vaults.