Graham Reid | | 5 min read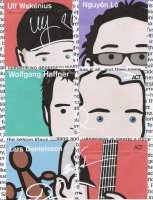 There is something smart about a record label adopting the idea of generic covers: certainly the distinctive Reid Miles design for covers for Blue Note (frequently using Frank Wolff's photos) became a hallmark of quality, and ECM came into the world (after a false start) with those cool, enigmatic photos which gave little away but sugested interesting contents within the sleeve.
The Rattle Jazz label in New Zealand has also adopted a similar approach.
Because of the similarity of covers there is an almost "collect the series" ethic which comes into play -- and that might be the thinking behind the ACT Music label's bold, look-alike covers by Carl-Henrik Wigren on their double-disc Signature compilations.
Founded in '92 by German producer Siegfried Loch and home to a diverse roster of European (and beyond) jazz and fusion artists, ACT Music has released over 250 albums -- and Loch's interest in graphic design has meant they have come in interesting covers, but few quite as strikingly colourful as Wigren's thick and brightly coloured caricatures on the Signature Edition series.
The first four releases in this series, which presents a self-selected overview of the artists' careers, is by guitarist Nguyen Le -- who appeared at Elsewhere with his terrific album Fragile Beauty of '08 with Vietnamese singer Huong Thanh.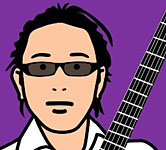 Le is a Paris-born Vietnamese who grew up on pop, rock and jazz, and has worked with Art Lande, Paul Candless, Weather Report's Peter Erskine, Markus Stockhausen, full orchestras, programmers and world music artists to create a hybrid of jazz fusion and world music.
The non-chronological collection include a track from Fragile Beauty (and another from the Le/Thanh '04 album Mangustao) but also reaches right back to the late Eighties and early Nineties for a couple of pieces recorded for Univeral before he inked with ACT.
It would be unwise to attempt any easy reference points for Le -- although yes, he does sound like John McLaughlin in places (notably on the very Weather Report cut Kokopanitsa with drummer Erskine and bassist Michel Benita) but equally he is at home recreating the sound of koto, zither and even suggestions of Hendrix at his most restraned (there is a polite version of Voodoo Child with bassist Meshell Ndegecello with Aida Khan on vocals).
And, when trumpeter Paolo Fresu drops by for the previously unreleased '04 piece Louxor Dance, Le gets onto the programming for something which stands at the midpoint of Davis' funky Tutu and skittering fusion.
When Le brings more world music into play than the rather bloodless fusion (which arrives in a cluster on the second disc) this is exciting stuff - and Fragile Beauty is your next stopping off point after this generous sampler.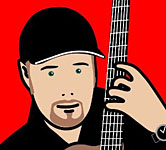 The second edition in the series belongs to another guitarist, Sweden's Ulf Wakenius (right) who spent a decade until '07 in the Oscar Peterson Quartet.
Wakenius had previously been a popular Scandinavian jazz-rock guitarist, explored Brazilian music and recorded duet albums with the great bassists Niels-Henning Orsted Pedersen and Ray Brown.
He has also lead his own groups which have included the likes of Jack de Johnette, saxophonist Bob Berg, trumpeter Randy Brecker, drummer Dennis Chambers -- from John Scofield's band -- and drummer Billy Hart. His My Space page here has a clip of him with Pat Metheny.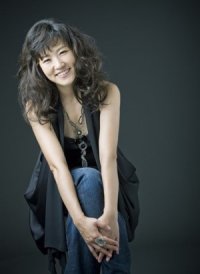 His self-selected double disc collection naturally favours his career outside of the Peterson Quartet including material from his '05 album Ulf Wakenius Plays the Music of Keith Jarrett; Notes from the Heart, and the Voyage album of '09 with vocalist and ACT labelmate Youn Sun Nah (left) who, despite her Korean name, delivers gutsy scatting Brazilian bebop on Egberto Gismonti's Frevo with Wakenius matching her point-for-point.
There are times however where Wakenius plays too light a hand and he errs into something just a fraction shy of New Age wallpaper, but then he straps on electric guitar and veers off into mainstream fusion.
The best material here is more considered however -- the lovely duet with pianist/cellist Lars Danielsson on Ryuichi Sakamoto's Bibor No Azora for example.
Wakenius listens widely -- not quite as voraciously as Le perhaps -- and here include a traditional Korean tune alongside standards (Blame It On My Youth, When I Fall in Love) and numerous originals.
Much of this collection is too lightweight for my taste but you can't deny Wakenius' considerable gifts.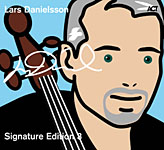 Of more interest is the Signature Edition featuring bassist Lars Danielsson himself (which has Wakenius present, and tellingly Danielsson also choses to include their duet on Bibor Bo Azora).
Although the line-ups are predominantly Scandinavian players, Danielsson has also recorded with more familiar names such as percussionist Marilyn Mazur of Miles Davis' later band), again with Wakenius and Youn Sun Nah; saxophonist Dave Liebman, pianist Bob Stenson and drummer Jon Christensen; trumpeter Mathias Eick; and guitarist John Abercrombie.
Most moving here are the almost impressionistic duet or trio pieces with pianist Leszek Mozdzer, especially Asta which opens the excellent second disc and leads in to Bird Through a Wall with the Danish Radio Concert Orchestra.
Restraint and understatement are the by-words here and this is both an outstanding release in itself and a fine introduction to the career of Danielsson.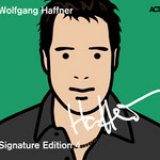 The final release in this current series of ACT Signature Editions features drummer Wolfgang Haffner who chooses all originals for his 24 track compilation which is loosely chronological -- which means you can hear his growth from straight-ahead and somewhat ordinary post-bop in the early Nineties.
He too has Brecker and Abercrombie present in the early days, but also Albert Mangelsdorff, Manfred Schoof and bassist Eberhard Weber on the more interesting Song for Bam Bam of 2000.
Things take a turn into the Teflon smooth-sheen jazz that Metheny delivered so often with guitarist Chuck Loeb and much of the first disc -- especially the digression into LA-lite jazz-funk -- is underwhelming.
Things are much more impressive on the second however which is predominantly material recorded in the past two years and finds Haffner in the company of players who really stretch out into the atmospheric (24 Hours, Shapes and Faithless with trumpeter Sebastian Studnitsky and guitarist Frank Kuruk which also finds the drummer shifting onto keyboards).
There is also a remix of one track (New Life, by Bobby Pleasure) which nudges it towards Kraftwerk-meets-Miles.
So this is a lot to assimilate from the ACT Music label but here a tip: start with the Danielsson and the Le . . . and after that see if you want to "collect the series" as that cover art invites.