Graham Reid | | 1 min read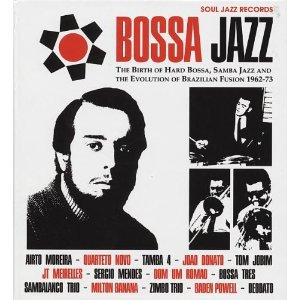 The highly regarded reissue label Soul Jazz -- see here for former treats -- again delves into Brazilian sounds of the late Sixties/early Seventies for a double disc which includes famous names like Airto Moreira, Flora Purim, Dom Um Romao, Sergio Mendes, Antonio Carlos Jobim and Baden Powell among others.
And of course they were all young back then.
Subtitled "The Birth of Hard Bossa, Samba Jazz and the Evolution of Brazilian Fusion", this typically well-annotated collection sets its sites high and wide, and the jazz end of the spectrum – often recorded in the States during this politically volatile period in Brazil – is especially well served in material which is frequently woozily exotic, full of seductive flutes and shifting rhythms, classy piano playing, fiery organ work and driving saxophones.
What also stands out is just how economic these players were. Very little here goes past the 3.30 mark, but the players make such immediate statements their impact seems unhindered by the brevity.
If your idea of Latin has breathy "bada-ba-ba" vocals as its premise be advised, this is some distance removed from the soft bossa shuffles for cocktail hour. You can barely catch your breath when percussion player Airto drives is smal ensemble through the boiling Xibaba (with on Carter on bass).
In fact, the young Airto and Purim will be a major discovery (or rediscovery) for many as they meld Latin beats, her cloud-skimming vocals and vigorous bop energy . . . but everywhere here is vital music which ran parallel to, and after, the revolutionary Tropicalia movement back home.
But that's another and very different story (which Soul Jazz has also documented here).