Graham Reid | | 1 min read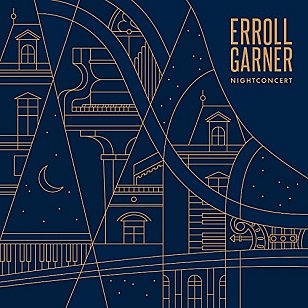 Back in the Fifties some jazz albums imprinted themselves on the wider public consciousness: Big sellers like the Dave Brubeck Quartet's Time Out (1956), Miles Davis' Birth of the Cool ('57) and Kind of Blue ('59), and more than a few by Duke Ellington and Sarah Vaughan among them.
And pianist Errol Garner's Concert by the Sea ('55) which was enormously popular and remains one of his finest, if not the finest, recordings of his long career.
Three years ago under the auspices of the Sony Legacy imprint and the Errol Garner Jazz Project, that complete concert by the sea at Carmel was released as three CD set, part of an on-going reissue series which has also included a collection of previously unreleased recordings (Ready Take One, '16) and now this live concert from '64 recorded at the Concertgebouw in Amsterdam.
Across 80 minutes Garner and his familiar trio (bassist Eddie Calhoun and drummer Kelly Martin) deliver a set which is muscular and meditative, nods towards the familiar (On Green Dolphin Street, Night and Day, Over the Rainbow, What is This Thing Called Love) but also dropped in a new piece for the approving locals (2000 of them applauding in the hall) with the bluesy and witty That Amsterdam Swing.
Only the Rodgers and Hart tune Where or When here appeared on the original Concert by the Sea (it is on the expanded edition, as is Night and Day) but of course this Dutch concert was almost a decade later and so it sounds quite different, more measured, resonant and fleet-footed. Less the flighty out-to-impress broody sprint as it seemed earlier.
Yet Garner was often a player out to wow a crowd with his sometimes turbulent but grounded energy, his ability make a piece sound tough but tender: For that try No More Shadows here which has classical flourishes, or the sinuous melodic lines he interweaves through Somewhere Over the Rainbow.
Garner – who died in '77 – uniquely blended stride style (here on When Your Lover Has Gone) with be-bop, the blues, Gershwin and others from the Great American Songbook . . . And perhaps for those reasons – he was self-taught so roamed free – he is not a player many contemporary pianists refer to these days.
He was unique and sometimes uncategorisable, enormously popular for his sometimes showy style but his reach was quite extraordinary, his technical prowess equal on both hands and he could slip between different rhythms effortlessly (check On Green Dolphin Street here).
Check the posted track, a Garner original, for a taste of his breadth. It is quite extraordinary.
It is interesting that in the brief liner notes to each piece here, the pianist/composer band leader and Grammy nominee Christian Sands mentions in passing the avant-garde, Cecil Taylor, blues, abstract pointillism, stride, boogaloo, classical flourishes, Fats Waller . . .
That was Errol Garner, probably on any night . . . but certainly here before a quietly polite but then enormously enthusiastic audience in Amsterdam.