Graham Reid | | 1 min read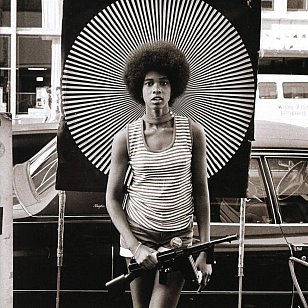 As we've previously mentioned, if you are a DJ seeking out rare grooves, obscurities and deep cuts (and whatever the current jargon is), then compilation like this must be very irritating.
Because this one – subtitled "Soul, Politics and Spirituality in Jazz 1967 to 1975" – puts great and rare music into the hands and ears of ordinary civilians. And they didn't have to spend hours in stores or even get their hands dirty.
But the result is the same: the chance to hear music you might not otherwise.
These 10 tracks – which starts with the Joe Henderson Quintet from 1970 and includes the Clifford Jordan Quartet and Gary Bartz – throws the spotlight on that time when the project of jazz for many black artists was the aural corollary of the Black Panthers, Afrocentrism and militant politics.
But also for many it was a time when the future was also rooted in a mysterious past and so alongside self-determination there was a deep spirituality as epitomised by much of John Coltrane's music (the man celebrated here by Jordan's Quartet).
So it should be no surprise that tracks here come from albums with titles such as Black Feeling (Johnny Hammond Smith), Commitment (sax/flute player Harold Vick), Things Are Getting Better (vocalist Eddie Jefferson who adapts Bitches Brew), Juju Street Songs (Bartz) and Bridge to a New Age (saxophonist Azar Lawrence).
And among the funky, angry, swirling and spiritual pieces are the fiery Henderson's magnificent, probing title track with trumpeter Woody Shaw, Ron McClure (electric bass), George Cables (electric piano) and others; the astral journey of Catalyst on Celestial Bodies (early and yearning cosmic funk from '73); vibes player Johnny Lytle's Tawhid (an embrace of Islam and street funk) and the more mainstream groove of Funk Inc's Let's Make Peace, Stop the War where Bobby Watley's organ and weary Gaye-influenced vocals lays down a quietly mesmerising melody and a chill-out vibe after the more expressive emotions which have come before.
This well-annotated collection will introduce some unfamiliar names to many, and record store diggers will doubtless face competition when those who pick up this one want to find early albums by the great Joe Henderson, Johnny Lytle's Milestone albums and Gary Bartz NTU Troop's vibrant liberation music on Juju Street Songs.
Recommended.
For more along these lines at Elsewhere (politics, jazz, etc) start here.