Graham Reid | | 2 min read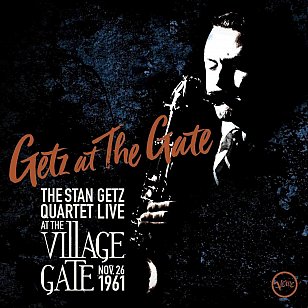 And here's another gift and "lost" jazz album from the vaults in the manner of last year's Charlie Haden/Brad Mehldau live album, Coltrane's studio session and live recordings of Charles Mingus in Detroit and Errol Garner in Amsterdam.
In 1961, the melodically fluid post-bop saxophonist Stan Getz – who had helped define the cool sound of West Coast jazz in the late Fifties (despite not being from there), and had played alongside his greatest equals (Gerry Mulligan, Herb Ellis, Dizzy, Oscar Peterson etc) – came back to the US after years away in Europe and Scandinavia.
He teamed up again with the great and soon-to-be-late bassist Scott LaFaro, pianist Steve Kuhn (fresh from Coltrane's quartet) and drummer Pete LaRoca.
At the dawn of the Sixties this was a quartet which had come through early and post-bop, Ornette Coleman's Free Jazz game-changer, the arrival of John Coltrane as a distinctive voice and so much more.
Jazz was in fast-forward (and sometimes free-fall) and Getz was not just playing catch-up but was ready to be on the edge, with one foot in the past which had nurtured him.
So when Getz brought a group to the Village Gate in late '61 it was another ensemble again: the gifted 23-year old Kuhn was still there but bassist John Neves and drummer Roy Haynes (of Sarah Vaughan, Charlie Parker, Bud Powell and Thelonious Monk bands) were now in place.
This was a new and short-lived group and until now – aside from the Verve album Recorded Fall 1961 album with trombone player Bob Brookmeyer – nothing (as far as Elsewhere can discern) has been released by it.
Within two years Getz would be a household name for his explorations of bossa nova and samba with guitarist Charlie Byrd then most notably with Antonio Carlos Jobim and the Gilbertos, Astrud and Joao, which crossed over into the mainstream.
But at the end of '61 when he took this band to the Village Gate in New York City for four nights he was still finding new ways of expression from material he'd recorded previously (When the Sun Comes Out and Spring Can Really Hang You Up the Most) but pushing himself in a way that may surprise those who only know his cool-bop or Latin sessions.
And what an interesting set of material they chose as their jumping in and off point on this final night, recorded in its entirety for possible release: Cole Porter's It's Alright With Me; Coltrane's Impressions spun out to 12 glorious minutes with Kuhn inventively tearing it apart; Sonny Rollins' dramatic and sprinting Airegin which Rollins had recorded with Miles Davis; Dizzy's Wood'N You; Monk's 52ndStreet Theme and standards by Sammy Cahn and Jule Styne (It's You or No One), the always delightful Stella By Starlight, Like Someone in Love, When the Sun Comes Out . . .
There is also a hushed and crowd-silencing treatment of Where Do You Go? from the late Forties which Sinatra recorded, and it is followed by the archetypal cool sound of Yesterday's Gardenias which came from Glenn Miller days.
But Getz's musical reach was as wide as his own sometimes volatile personality, so most interest here perhaps alights on the more vigorous material like Airegin, and also the work of pianist Kuhn.
And the final piece, the encore perhaps, has Getz playfully toying with a few familiar melodies (How High the Moon) before getting into Jumpin' with Symphony Sid . . . and the past is pulled into the present again.
This live album unearthed from Verve's vaults after 58 years captures Getz at a kind of crossroads: back from three years abroad during which Coltrane and Rollins had sprung to greater prominence, the modern sounds competing for attention with what he, as a man in his early Thirties, had grown up with since he started playing as a teenager with the likes of Stan Kenton, Benny Goodman, Woody Herman . . .
Within three months he moved into new territory when he met guitarist Charlie Byrd just back from Brazil, and jazz would have new influences.
So this is a fleeting moment captured.