Graham Reid | | 6 min read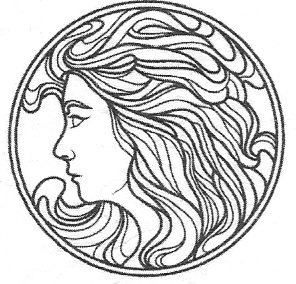 Like most people I suppose, I can remember my first pop concert. It was cool.
Well, it wasn't the best you could cite to make yourself out to be a cool kid. It wasn't the Stones (that came a few months later) but little-known Australian pop star Normie Rowe playing to an almost empty Crystal Palace picture theatre in Mt Eden.
He was on one of those package shows so common back then. He topped the bill after the Chicks, I think Ray Columbus and the Invaders, and a longhair moody bluesy band who shuffled on and didn't even attempt to entertain. They were great and I wish I knew who they were.
I was only about 14 and to be honest knew nothing about Rowe who apparently had a hit with Que Sera Sera . . . and I told him so about three decades later when I interviewed him. He'd subsequently served in Vietnam and has become a spokesman for veterans, and in the Seventies had gone into musical theatre and such.
But I also said that seeing a pop show like that was a formative experience . . . and I'm guessing among the capacity crowd for homecoming queen Lorde there were any number of young kids for whom this was their first live concert.
It would be a formative experience.
And much cooler than mine.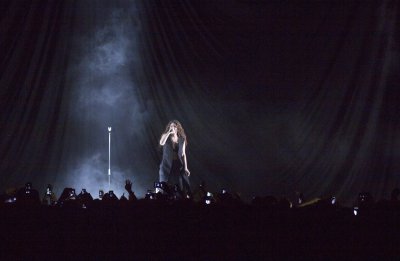 Under a single spotlight at a microphone she opened with the dramatic Glory and Gore (that song of strength and affirmation with those insightful lines "victory is contagious") and then was into White Teeth Teens with a stage confidence that has grown rapidly in the past year.
When she spoke – with some obviously American inflections – it was to say how good it was to be home on this final date of her 86-concert tour, a theme she reiterated on a couple of other occasions, one time at unrehearsed length as tears welled up.
At that point she also referred to the images which had screened during Tennis Court. They had seemed odd – kids playing rugby and the air ducts in the bright-white underpass to the North Shore – but it all made sense. These were images of home she carried when playing elsewhere: her favourite spotlit rugby ground, that tunnel of white transition between the recording studio in Morningside and her home on the North Shore.
When she told the crowd that these songs were about Auckland and mentioned trying to write about what it's like to be 15, 16 and 17 – she turns 18 on Friday – lines in songs rang with new resonance: "I love these roads where the houses don't change" in 400 Lux speaks of that need for security and sense of belonging so many have in those uncertain years.
When I reviewed her album Heroine I made the point "It is a rare and wonderful thing when artists channel -- intuitively or otherwise -- their own concerns and those of their generation, and in the language of their peers".
With a simple stage set – just a few screens placed mid-set and costume changes that were mercifully quick (none of your Beyonce-gone-for-a-while nonsense) and simple variations of midriff-baring black then white then dramatically red, Lorde was a commanding stage presence.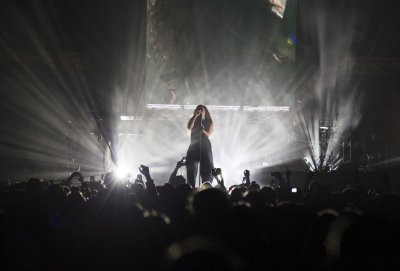 Her performance – all hand gestures and flaying hair (which she seems to use as a shield sometimes, understandably), and the astutely minimal lighting – invites a few comparisons: Kate Bush being one but, in the more still moments, the visual power David Bowie brought to that clip for "Heroes" where less said so much more.
And when she dances it is like a 17-year old bouncing on a bed with her friends.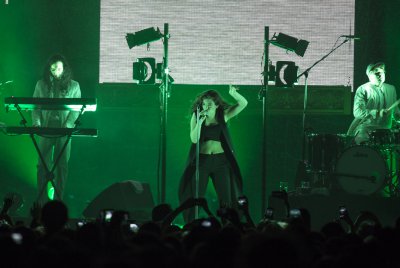 Because her staging and performance are limited and her mannerisms repeated, the songs – brought to life by keyboard player Jimmy Mac, drummer Ben Barter and samples – are the key.
Intelligent they may be, but for an arena artist she conspicuously lacked some real all-out dance songs which a set can built towards.
The closest she came was Ribs which was given a thumping treatment, the almost electro-dance of Biting Down and her cover of The Naked and The Famous' Young Blood (a nice touch, "hey-yeah yeah yeah") . . . although the latter didn't quite rise to its crowd-bounce potential.
Her 75 minute set (plus digressive chats) didn't feel like it had an upward trajectory. It hit a plateau early – a high one admittedly – and sat there, each song delivered with much the same intensity.
In a telling moment however – telling for me in that it reminded of something we shouldn't forget – she spoke of feeling uncertain and sometimes lacking confidence. She then offered a song she went to for reassurance at such times – a quieter treatment of Bon Iver's Heavenly Father – and you really do need to remember this girl is only 17.
Gifted, mature, a damn fine role model by my reckoning . . . but still only 17.
While she was singing Heavenly Father I was thinking that here she was in her hometown the same week as she is on the cover of Billboard magazine, for the second time.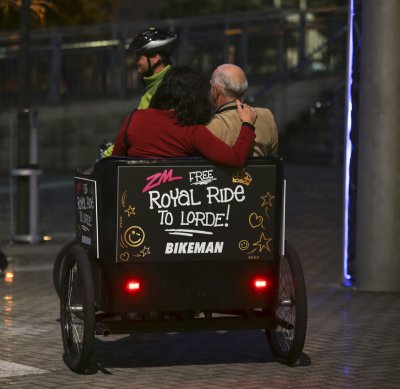 In the early Nineties for about five years I was the New Zealand correspondent for that bible of the music business and I'd try to hustle for space in their pages. And for information from local record companies and artists so I could write stories about how great New Zealand music was.
It was battle on all fronts – I couldn't believe how indifferent artists and their record companies here were about getting exposure in the US – but one time we were offered a special New Zealand profile of many pages . . . which I keenly filled. When Billboard came back the following year they told me they couldn't do it again as so few New Zealand record companies were prepared to advertise.
I gave up at that point.
And now, here is this precociously talented and well-grounded teenager who has the global music industry at her feet.
That's a triumph for art and talent – over commerce and promotion – in a way which makes me feel very good indeed.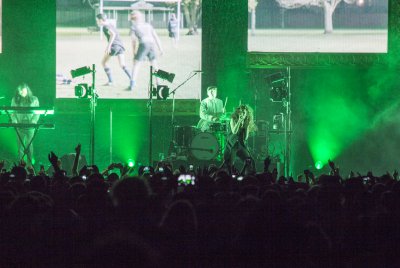 Towards the end she pulled out the New Zealand flag and wrapped it around herself to great cheers: I did wonder at that point if she'd commented that we shouldn't change it if she might have got a roar of approval from the patriotic crowd. Or maybe she could have gone the other way on that and got the same response.
That made me look around at all the raised camera phones, the glowing faces of kids -- plus people in their 20s, 30s and beyond – to see the genuine affection and respect this teenager has won and deserves.
In the carpark lift afterwards there was a girl, maybe 11 years old, her freckled cheeks still flushed red. I asked what her favourite bit of the show had been.
She answered with just enough rising inflection to suggest she wondered why such a question should even be asked.
It was a reminder to me – almost 50 years after my first pop show, and a man who sometimes analyzes too much – about the power of a formative experience.
"All of it," she said.
Images here by Garry Brandon who has been a concert and commercial photographer for decades in New Zealand. All images copyright Garry Brandon, whose website of archival concert and other work is here. There is more of Garry's work at Elsewhere with these reviews here.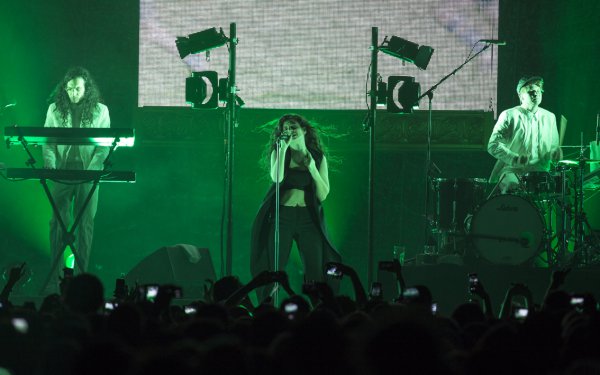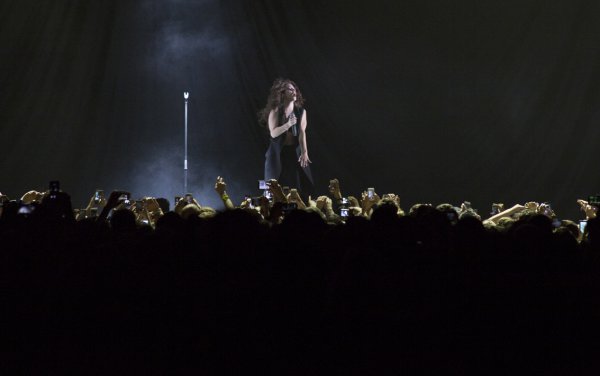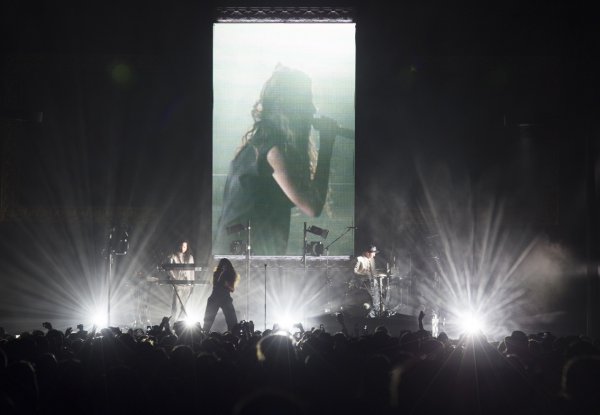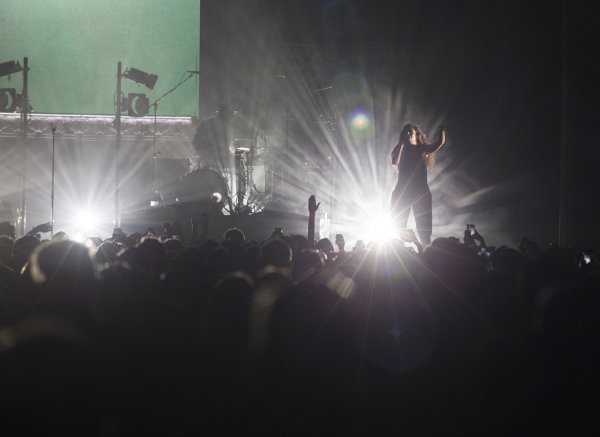 .