Graham Reid | | <1 min read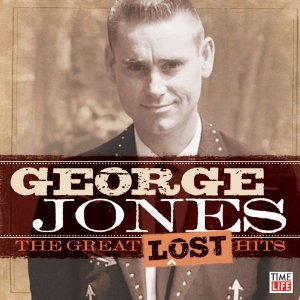 Lawd almighty, but ain't there been some archival albums appearing lately?
In the past few weeks Elsewhere has noted albums of Bob Dylan barely out of his teens (here); Kris Kristofferson before the fame (here), Willie Nelson's earliest material (here) . . . and now the great George Jones.
The honky-tonk balladeer, country weeper (Things have Gone to Pieces -- see clip below -- is one of the great "lost my woman/home/car/dog" songs) and working man's hero is one of the cornerstone figures in country -- and of course his troubled private life, heroic drinking, catalogue of great material and interpretations . . . and a voice of considerable emotional range made him a legend in his own lifetime. Sad songs came easy to him because there was a lot of pain in his life.
The title of this double-disc collection is slightly misleading: these aren't so much "lost" as songs which have been previously unavailable because of contractual litigation. But here, distilled from a huge body of work on the Musicor label, are some of his greatest songs from '65 to '71: A Good Year For the Roses, A Day in the Life of a Fool, Burn Another Honky Tonk Down, Things Have Gone to Pieces, Beneath Still Waters, Feeling Single Seeing Double . . .
This is the time to pour yourself a shot of whiskey and submerge yourself in a world of pain, the damp-eyed promise of a happy but cliched image of marriage, the talk around town, the temptations of soft lips, the working life . . .