Graham Reid | | <1 min read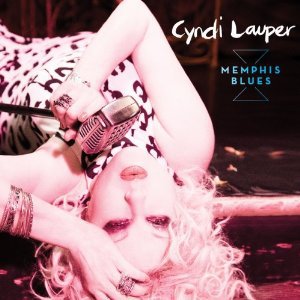 Even those of us who would still mount the argument that Cyndi Lauper was -- and remains -- a far greater talent than her peer, Madonna, might approach this album with some trepidation: just as Dusty and Elvis went to Memphis to record some of their finest songs, so now has Cyndi -- but a rather different, more bluesy Memphis than that which drew the sophisticated Ms Springfield.
But with a guest list which includes B.B. King, Jonny Lang, Charlie Musselwhite, the great Ann Peebles and Allen Toussaint, as well as a whip-crack session band with horns and organ, Lauper delivers an album of blues songs which is by turns restrained (not a feature you might identify her by) or full of earthy raunchiness and sensuality (her version of Early in the Morning with Toussaint and King, How Blue Can You Get? with Lang).
She also proves herself (again) a thoroughly convincing torch-blues singer (the aching Romance in the Dark), can get in behind a New Orleans gumbo beat (the too-short Don't Cry No More) and edgy rock-blues (Rollin' and Tumbin' with Peebles, Crossroads with Lang).
If Lauper doesn't at times quite pull out the Etta James-style throat-tearing she is capable of (Down Don't Bother Me, maybe a little more in Crossroads) you'll still conclude that this unexpected excursion has been very worthwhile for all parties. And us.
Can't see that Material Girl goin' down to Memphis and delivering the goods. Case closed on that argument.