Graham Reid | | 1 min read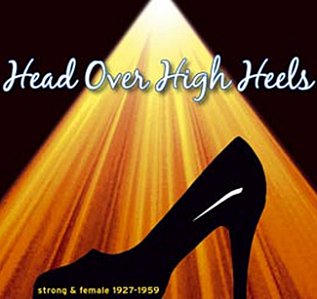 Much as some might like to think strong females arrived with Madonna (or maybe in the late Sixties with feminism), there were always those independent, tough-minded and free-spirited women out there -- especially in the world of jazz and blues.
This collection which opens with Pearl Bailey and You Can be Replaced (from her album Pearl Bailey Sings for Adults Only, 1959) and closes with Julie London's classsic Cry Me a River, brings out a role call of great female artists.
Here is the earthy Sophie Tucker, the sassy Mae West, Kay Starr, Billie Holiday, Peggy Lee, Josephine Baker, Rita Hayworth and Shirley Bassey, some of whom admittedly fell victim to the wiles of men or the lifestyle they were living.
Also of interest here are Marilyn Monroe (yes, she really could sing more than Happy Birthday Mr President), Doris Day (always much more than How Much is That Doggie in the Window?), the pneumatic blonde Mamie Van Doren, Marlene Dietrich with Rosemary Clooney on He's Too Old to Cut the Mustard, the remarkable Eartha Kitt (here with the dramatic, nasty Leo Ferre number The Heel), Mitzi Gaynor and Jean Harlow.
Some of these songs have lyrics more assertive than others but all have somewhere as a subtext "don't fence me in" or how to "separate the men from the boys".
There are blues artists who were more graphic (like Lucille Bogan) but this collection -- more aiming to swing bands and cabaret -- reminds you that the sisters (the Andrews Sisters even) have often been doing it for themselves.