Graham Reid | | 1 min read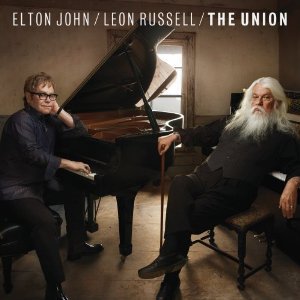 The story of how much Elton has admired Leon Russell for many decades (and who was a profound influence on his playing in the early Seventies) is well known, as is how Russell's star fell slowly from that peak when he was helming Joe Cocker's Mad Dogs and Englishmen tour, then appearing with George Harrison, Dylan and others at the concert for Bangladesh.
Russell delivered some terrific songs and albums down the decades (and as his alter-ego Hank Wilson) but they flew below the sightlines of most . . . and so this album is Elton's chance to elevate Russell's status, but also pay tribute to him.
The pity is then that this isn't a more joyous occasion: most of the songs are downbeat and earnest, and if you'd hoped for something along the lines of Tumbleweed Connection -- that mix of country rock, ballads and rock'n'roll might not have been unexpected given their backgrounds -- then you'll be disappointed.
Sometimes (as on Hey Ahab which could have thrilled like Gimme Shelter with its soul-scream backing vocals) this plods when it should have -- or could have -- soared.
But when they touch on soulful ballads -- notably the Elton/Bernie Taupin Civil War-framed Gone to Shiloh which could have come off Tumbleweed -- then this hits the mark dead centre, especially when Neil Young adds his plaintive voice (on Shiloh). Their chugging horn-driven rocker Monkey Suit sounds more written by rote, but their When Love is Dying allows for a wonderful duet.
And Russell's co-writes with Taupin, I Should Have Sent Roses, shows that these two should get together more often: Russell's slow twang is ideally suited to the wistful lyrics.
There is a big call of talent here: the album is produced by T Bone Burnett and the cast includes guitarist Marc Ribot, drummer Jim Keltner, Brian Wilson arranged the vocals on When Love is Dying . . .
So a mixed bag, but at its best (more than half of the 14 tracks) this one is late career high for both artists -- you just wish whatever fun they had would have come through more.