Graham Reid | | 1 min read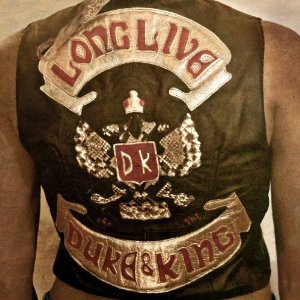 Hilarious. If there's another Austin Power movie and our spy gets dropped into the early Seventies in California -- the time of all those self-centred, earnest singer-songwriters in the Canyon -- then the formerly interesting The Duke and The King already have a few songs here which sound like pitch-perfect parodies of the style.
Okay, I get that much of this is about the dislocated times in the US and the wars they are engaged in, and about soldiers on the front or coming home.
But it also sounds so limp that it reminds me of the worst indulgence of the wimp-folk scene. And they certainly aren't averse to hauling up the spirit of James Taylor (You and I), Crosby Stills and Nash, a touch of Donovan, America and even poor Neil Young (who didn't deserve the Harvest-era styled Don't Take That Plane Tonight "the wind ain't right").
Have You Seen It? is one of those songwriter-as-seer songs: "I've seen trouble come along and I've seen greed, seen a band of angles marching through the streets, seen a banker blow his mind out on a beach" And doubtless seen fire and rain too.
As with much of that early Seventies stuff, this is delivered with such soulful earnestness that you'd hope for much more insightful lyrics than "pull back the curtain and open the blinds and let the sun shine, dump all your troubles, dump all your pain and leave it all behind". Or "Love is a coke-dealer's daughter, love is a slave ship at sea [huh?], love is a wheel made of sawdust, it's all we need . . . If I was dying of heartache, would you write me a song?"
Okay this isn't all truly embarrassing: the country soul of Hudson River is elevating and recalls Otis Redding/Solomon Burke, and it is frequently beautifully sung and cleverly arranged.
But really . . .
"Baghdad, she's a mean old town . . ." rather understates the case somewhat in Shaky which seems to be about someone shell-shocked in that blighted city but also about "come on baby, just come and shake that country ass".
These people -- a new aggregation around former Felice Brother Simone with various Felice Brothers in support -- and, oddly enough some critics, take themselves rather too seriously. And for more than half of this album I simply can't.
Check the clip below (oh they are "freaks", riiiiight) . . . "it's more important to shake your ass than shake a gun at somebody". Yep, that stoner philosophy delivered from the comfort of home will work in Iraq or Afghanistan.

"Hello children of the sun, how does it feel to hold a gun, can you sleep when day is done . . .?"
Spare me.
Hilarious, if it wasn't so limp and saaaaaad.
Like this? Then try this . . . . it was intentionally funny.