Graham Reid | | 1 min read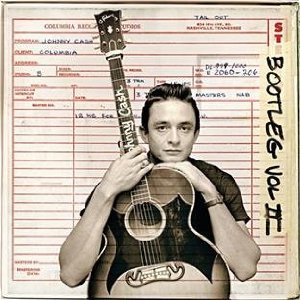 Following Cash's Personal File: Bootleg Vol I -- and of course the Dylan bootleg series, Kris Kristofferson's Austin Sessions and demoes, George Jones' Great Lost Hits and various Willie Nelson issues of early demos and sessions -- there is no shortage of material for scholars researching these artists.
This Johnny Cash double disc from his own archives places him in the context of the mid Fifties radio world he occupied. Not only does he sing but also reads the ads on his Memphis radio show with the Tennessee Two (guitarist Luther Perkins and bassist Marshall Grant) and invites listeners to send in their requests for songs they would like him to play. He sounds uncomfortable and mostly unscripted, but much more confident when singing his original country-spiritual Belshazzar (which Dylan admired and brought to the basement to play with the Band).
Thereafter is a bracket of previously unreleased and undated demos (certainly mid Fifties, probably '55) which include I Walk the Line, Train of Love, Country Boy, I'll Cry For You and others -- and a raw Rock and Roll Ruby (very generic, sounds like it is coming down a bad phone connection).
There's also Leave That Junk Alone (about liquor) which recommends drinking water instead. Some ad agency could swoop on this one.
Regrettably -- unlike Dylan's bootleg series and those others mentioned above -- Cash's original material was all very similar in this period (story songs set to that distinctive train-clack guitar sound).
The second disc of songs from the Sixties -- although containing much released material but all rather rare unless you are a Cash completist -- is more interesting as Cash pushed himself into country-pop, gunfighter ballads (Johnny Yuma), well produced echo-heavy rockabilly, deeply reflective songs and yes, mawkishly sentimental stuff (There's a Mother Always Waiting, Send a Picture of Mother).
The early Sixties country-pop is mostly fluff, but his deeper and darker voice makes them more than just off-cuts, but it is as the decade moves on when things get really interesting: the demo of Hardin Wouldn't Run (about gunfighter John Wesley Hardin, from '65, which predated Dylan's interest); Dylan's One Too Many Mornings given the train-clack guitar; Tex-Mex with raw guitar on Put The Sugar to Bed; the mock-drama of the Vietnam-era Roll Call (more Ballad of Green Berets than any anti-war statement); The Folk Singer from '68 with Dylan's producer Bob Johnson . . .
This is far too much Johhny Cash for the casual listener of course, and far too much of it treads similar waters. But it's here for researchers, the curious and the completist.
A few unpolished diamonds scattered through the dark coal though.
If this appeals to you, then check out this.