Graham Reid | | 1 min read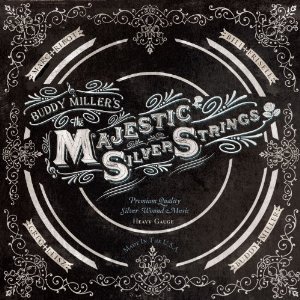 Although a supergroup of guitarists is at the core here -- the great Miller (of Emmylou Harris' band and Robert Plant's Band of Joy among others) brings on board Marc Ribot, Bill Frisell and Greg Leisz whose names are on albums by Tom Waits, Elvis Costello, Willie Nelson, many alt and straight country acts as well as ECM jazz albums -- the vehicles they use might not persuade enough people of the genius at work on this one.
With those stellar talents -- and guests Harris, Patty Griffin, Shawn Colvin and others -- the band go back to old country songs associated with Lefty Frizzell, Roger Miller (Dang Me) and George Jones for much of their source material.
Which means some might just be immersing themselves in the atmospheric, mercurial playing on the opener Cattle Call when vocals start in about "the coyotes and doggies" out on the plain. And then there's a little yodeling.
But as a scene setter this is actually the perfect opener as it drops you back decade and into another world . . . and after that you are there with a lightly rockabilly beat melding with Western swing (No Good Lover with Anna McCrary on tough bluesy vocals), gentle country ballads (Frizzell's I Want to be With You Always where Miller duets with Griffin), the moody rumination from in prison on Barres de la Prison . . .
Ribot's original Meds is an aching song of being on medication which eases in between Barres de la Prison and a complete overhaul of Miller's Dang Me (here more spooky and menacing than his jaunty original).
And that emotional depth is what they bring to these arrangements, as on the slow, Spanish-influenced Bury Me Not on the Lone Prairie (which could have come from a Giant Sand album with Ribot singing). Why I'm Walkin' with Harris is a standout.
The album also comes with a delightful, insightful 20 minute DVD doco on the making of it and "messin' up old country songs", and has a clip of Why Baby Why live in Nashville.
Get past the cattle on the prairie and you are in for a wonderful ride even if the nights can get cold out there.
Majestic silver strings indeed.
Like the sound of this? Then check out this one.