Graham Reid | | 1 min read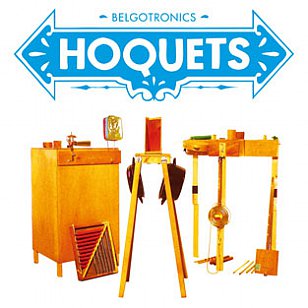 This quirky trio from Belgium who sing in English, French and Flemish take their name from the form of interlocking musical patterns or "hockets" (From Scratch had an album Global Hockets in the late 90s) which in French rhymes with "okay".
The album title refers to the Congotronics albums out of Kinshasa (also on Crammed Discs) where musicians use primitive or homemade instruments, as do these guys. So it's sort of a "tribute" and with 16 short pieces they come off like early Wire with self-conscious humour, Belgium being on the receiving end of much French humour.

Primitive beats, much tongue-in-cheek referencing of the delights and history of Belgium, guests bringing in organ and extra percussion, a rap about a local biscuit ("it's flour, honey, 15 minutes at 300 degrees" on Couque de Dinant), primitive rock on 1815 about the Battle of Waterloo, a funk-pop song about the charming ladies of Ghent . . .

Not many bands celebrate mashed potatoes (Stoemp), huh?

Funny, but at its best when the strange instruments take prominence over the jerky vocals which recall early Talking Heads or the Feelies (as on the taut Nationalestraat). And when the buzzsaw guitar comes in for their attack on Nato (Otanato) which has its headquarters in Brussels.

The first and possible last album in your collection by a group from Brussels?

From the country that gave us Plastic Bertrand.
Maybe that was all you needed to know.
Like the sound of this but want something with more teeth, then try some of these occasionally oddball postings.