Graham Reid | | 2 min read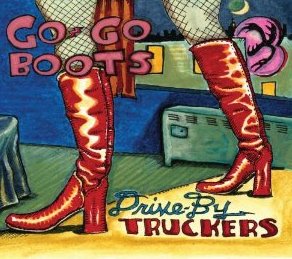 Despite doing well on the charts, the last album by the Truckers -- The Big To-Do -- was a disappointment: perhaps the knocked-off-quickly feel worked against it, you wouldn't attribute it directly to the loss of one of their songwriters Jason Isbell to a solo career (although many felt that).
Its occasional rowdiness had undoubted appeal, but as an album it was far too uneven, so any follow-up which has more consistency is bound to be hailed as "a return to form".
And this one, if not an immediate grabber because the moods are slower and more considered, is certainly different.
The deaths of Vic Chestnutt and artist Byron Wilkes may have informed the more melancholy writing, but that might be reading too much into these mid-tempo country-rock or slow Southern soul ballads which were recorded at the same time as The Big To-Do but shaved off for a separate album. (Which might confirm my comment about box set tracks in my Big To-Do review.)
The unifying thread here -- aside from the more consistent mood -- is that most of these songs are narratives or sung from within characters.
Ray's Automatic Weapon opens with the arresting, "Ray, I got to tell you, you got to take that gun back cuz these things that I been shootin' at are gettin' all too real" and spins into a sketched-in story of a Vietnam veteran still having nightmares.
And the moody, bluesy Used To Be A Cop starts, "Used to be a cop but I got to be too jumpy, I used to like to party till I coughed up half a lung . . ." and the narrator talks of driving around the house of his ex-wife, the scars on his back "from the way my Daddy raised me" and how he's "paying for the house but that bitch lives in it now".
Throughout, people on the margins of society are given voice and their dark stories unfold. A reverend hires a guy to kill his wife and make it look like a robbery (it goes wrong of course); a preacher who shacks up with his mistress "doing things he'd never do with the Mrs" is seduced by her go-go boots so has his wife killed (a theme here?); drug dealers are here, and their customers . . .
Dark stuff delivered over low soulful country-rock grooves, singing guitars and Hammond B3.
And Where's Eddie is a lovely tribute to the much-forgotten Eddie Hinton, a songwriter and soul singer ("the white Otis") who wrote classic but ignored songs and was one of the great Muscle Shoals session players.
These separate songs sound like haiku screenplays . . . and incidentally there is a doco about the hard times the band has been through in the past few years, The Secret to a Happy Ending. (See clip below)
So . . . brooding, dark, mood pieces and stories with bite. Not the door-kickin', boot stompin' Truckers of previous incarnations, but a band delivering an album born of tough times and with real depth.
Not a return to form therefore, but another form again.
Like the sound of this? Then check out this.