Graham Reid | | 2 min read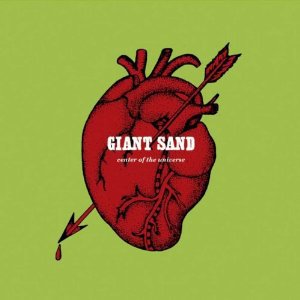 In an in-depth interview with Elsewhere, Howe Gelb of Giant Sand was asked which album he would single out for anyone coming to the massive reissue programme of a couple of dozen Giant Sand albums and a dozen release under his own name.
His answer was immediate. He picked Center of the Universe from '92.
"It was the only time I was allowed to live how I always wanted to live, which was completely alone in a small one-room cabin out in the desert. Shortly after that, within three years, I had to move back to Tucson to put my first child into school.

"I was newly separated at the time so moved to the desert in the Joshua Tree area to a cabin in the middle of nowhere right past where the dirt road ended. So I had no TV and the only entertainment I had was coming up with songs for myself. And they seemed to come fast and furious and we recorded them the same way.

"They are really a lot of fun and that record has a real good spirit. I can hear my focus because I was left alone. I'm the kind of guy who needs two days to have one clean thought, one uninterrupted focused thought. And with kids and family and being in the city, that will never happen again."
With drummer John Convertino and acoustic bassist Joey Burns (who later formed Calexico), organ player Chris Cacavas and electric bassist Paula Jean Brown, (and Victoria Williams on back-up vocals), the album bristles with rock energy where guitars are distorted, the vocals are tough and possessed of a desperate energy, and the songs exist somewhere between Husker Du, electric Neil Young and power pop which has been given a workover with rough sandpaper.
And, as Gelb says, there is a feeling of focus throughout where the fat has been stripped away and each song has an inner strength and tautness which links it to all the others, even though some are more in the manner of alt.country-rock. (Live to Tell has harmonica, a needle-sharp guitar solo of exceptional brevity and buzz-saw guitars as the backdrop.)
Like some distant cousin of the Meat Puppets' desert psychedelia, Center of the Universe has plenty of out-there going for it, but sometimes it also has a clenched fist intensity of early Nick Cave and the Bad Seeds (Loretta and the Insect World with its strangely disjointed vocal part and falling apart beauty.)
When material like Sonic Drive In blast into life (closer to Blue Cheer and confrontational Sonic Youth than distorted alt.rock) you know this is not the Giant Sand for those coming to the band via their more recent and restrained Blurry Blue House.
But Milkshake Girl is bent Lou Reed pop, Stuck is close to acoustic country (close, I said) and you could imagine Unwed and Well Sped being sung after a few drinks on the backporch at that remote desert location where these songs were first conceived.
There are some oddball stories here too (Solomon's Ride) as well as lyrics that will take some serious figgerin'.
Howe Gelb is a man of constant musical surprises and a vast back-catalogue now being re-presented. Here's where he thinks you should start.
He may well be right.
Like the sound of this? Then check out this.