Graham Reid | | 1 min read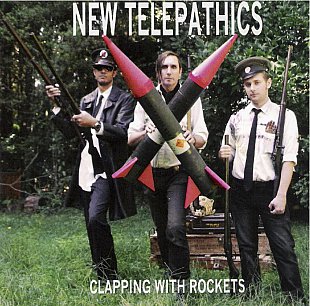 New Telepathics' multi-instrumentalist mainman Darryn Harkness has certainly covered the waterfront in his 20-year career. He's been in straight ahead rock bands, the From Scratch percussion ensemble, written music to accompany the silent film Nosferatu, pulled together bands feeding off the spirit of Sun Ra and Fela Anikulapo Kuti, written self-published poetry, played and lived in the UK and Germany (with his band Serafin) . . .
Inevitably on their My Space page he describes New Telepathics music as "experimental" although I suspect that might be more correctly "exploratory".
Certainly this album as a core trio (with guests) mostly delivers visceral rock in short sharp bursts (only one of the 17 tracks pushes past the three minute mark, most come in around 2.30) and you can't deny the impact of fast-cum-thrash pop songs like the searing Drugs for Kids and Animals, the power pop of Lately, the explosive Right Not Right and Dirty Suits which have stepped right out of the immediate post-punk period of the early Eighties.
But there is another side to New Telepathics (as there is usually is with Harkness) and that is in the slower material: the atmospheric, slow burning, echo-heavy opener Use of the Sound; the folk-influenced Waiting and the understated Matter; the melodic piano ballad Units Required Speaking Slowly; the slow, cinematic and evocative Crawl ("across the sky") with haunting backing vocals from Sandy Mill . . .
Auckland-based Harkness generously distributes the vocals too and although he handles most, the guests include Andrew Fagan, Dave Thiele and Harold Picasso among others. Immi Paterson takes the lead on the delightfully eerie folk of River Calls Me Now in the closing overs.
With instrumentation which includes autoharp, accordion, trumpet, bowed guitar and saxophones outside the guitar/drum/bass line-up, this album also brings a lot of different textures into play.
Perhaps too many and too much? You could live without the brief percussive Eva for a kick off and with the bristling rock early up and more reflective material in the latter this also feels like an album of two halves.
Self-restraint has never been Harkness' forte -- look at how much territory he has covered over the years -- but ths one might have been stronger for peeling out some material into a separate release.
Programme your play for the slower material and this is very impressive, play the rocked-out others in the car and you'll be equally taken. They just sometimes make uncomfortable bedfellows all in the one place.
(The clip below comes from an earlier incarnation of the New Telepathics)
Like the sound of this? Then check out this.