Graham Reid | | 1 min read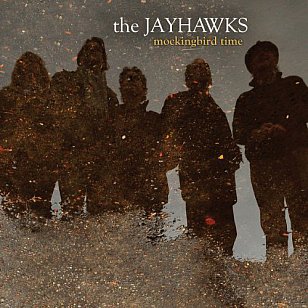 Something to speculate on. What if John Lennon had quit the Beatles around the time of Help!/Rubber Soul when it was clear he and Paul McCartney were going in different writing and personal directions.
Say he'd gone off into more personal and introspective writing and Macca had steered the band along a more pop route?
No Revolver for a kick-off.
In a sense something similar happened to the Jayhawks, the band that seemed to define early Americana in the grunge years while most people's attention was on flannel shirts out of the Pacific Northwest or Britpop.
On their major label albums Hollywood Town Hall and Tomorrow the Green Grass the pairing of songwriters Gary Louris and Mark Olson were in fine harmony (literally) although each was pulling in a slightly different direction. And then Olson quit and Louris (broadly) steered the band into a more pop path.
In the past decade the two have played and toured together acoustically and recorded the album Ready for the Flood two years ago. The stars were aligned for the Jayhawks to reconvene, as indeed they have done.
Mockingbird Time delivers all their familiar tropes of harmonies, slightly wistful Americana which refers to Buffalo Springfield and Byrds as much as acoustic Neil Young, but you can still hear those separate interests -- the string-coloured slightlydelic Beatles '66 opener Hide Your Colors and Louris' production favours embellishment (strings) to beef up what are sometimes rather thin, if enjoyable, songs (Closer to Your Side, the title track, Black Eyed Susan).
Those harmonies are still swoon-inducing in places and on material like Tiny Arrows they sound like America under the influence of the Band. Its hard to escape the Anglophile country-rock heart-tug of She Walks in So Many Way and pop throb of High Water Blues with its power chords. Or the finger-picking Pouring Rain at Dawn.
But equally Stand Out in the Rain (English folk creeping in) and Cinnamon Love (Buffalo Springfield) sound like a band settling for what they knew rather than stretching out with the years of other experiences behind them.
So in that it is an uneven return which offers the comfort of the familiar and so will hardly disappoint those for whom this is a long awaited reunion.
But this isn't their Revolver or even Rubber Soul.
Maybe their A Hard Day's Night again, as it were.
Mark Olson is interviewed about this album here.
Like the sound of this? Then check out this.