Graham Reid | | <1 min read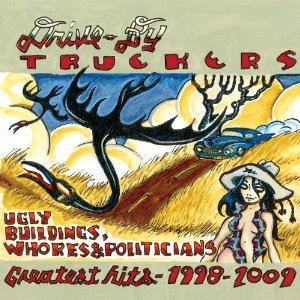 Those who have missed the career of Drive-By Truckers out of Athens, Georgia are advised to just dive in at their Southern Rock Opera of a decade ago (which gets four of the 16 tracks on this chronological collection), The Dirty South (three tracks here) and/or Brighter Than Creation's Dark (two).
Grounded in Southern rock (Lynyrd Skynyrd) and soul (courtesy of Muscle Shoals connections and Spooner Oldham) with a dollop of electric Neil Young (Skynyrd's Ronnie Van Zandt and Young are given the namecheck on the bruising Ronnie and Neil from Southern Rock Opera), the Truckers are an inflamed passion for many and their albums are strenuously debated . . . more so perhaps since Jason Isbell quit for a solo career in '07.
The Truckers tell stories of being young, Southern, crazy, loving Molly Hatchett and .38 Special and other rock-critic-unfashionable bands, and the agonies of love to a boogie-rock rhythm.
If some or any of that -- plus a little Stones riffery -- means anything to you then you could also tune in right here for the overview.
Like the sound of this? Then check out this. Or this.