Graham Reid | | 3 min read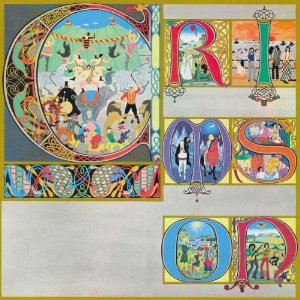 Of all the albums in the early King Crimson catalogue -- those between their '69 debut In The Court of the Crimson King and Red in '74 -- Lizard is the one which has most divided critics and fans.
Even KC founder and sole constant Robert Fripp has considered it largely unloved, and he doesn't strike anyone as being modest about his music.
According to Steven Wilson (of contemporary prog-rockers Porcupine Tree) who recently remixed the early KC catalogue with Fripp, "it was an album that was like an unloved son and even Robert said it was piece of shit. I said to Robert that I wanted to [remix] Lizard first and he said, 'Why? No one likes that one'. I said I wanted to change people's minds."
The circumstances surounding its recording were interesting: After their impressive debut there were almost immediate line-up changes, the second album In The Wake of Poseidon came off as a poor replica of Court, and by the time Fripp went into the studio for Lizard he had an almost new line-up again -- and pulled in jazz players Keith Tippett (piano) and Marc Charig (cornet). Jon Anderson of Yes had a guest spot also. Two days after the album was completed singer Gordon Haskell was eased out, which also tells you something about its difficult gestation.
It didn't set fans or the sales charts alight.
Lizard was an album made at a difficult time in their career . . . and wasn't their easiest album either.
If their debut and its follow-up were firmly stamped with towering and dramatic prog-rock gestures (with pastoral interludes which have dated less well), Lizard managed to drop in furious free jazz (never a smart move if you have pop or prog appeal) alongside Pete Sinfield's tripped out lyrics and distorted vocals.
It was an odd one. Consider these lyrics: "Cheesecake, mousetrap, Grip-Pipe-Thynne cried out 'We're not Rin Tin Tin' ". Makes sense in the context of the discordant Happy Families about the Beatles' break-up. (Although Ringo said it better at the same time, and with more amusing clarity.)
The title track was 23 minutes long and is an epic narrative about a prince and a battle and . . . And yep, it's prog.
The full page ad for the album in Melody Maker was a reproduction of that faux-philosophy poster Desiderata ("Go quietly amidst the haste . . .") allegedly found in a church and dated the late 17th century. (It was early 20th century, pretty nice nonetheless, but . . .)
So, Lizard some four decades on?
It's a challenging listen but in many musical ways time has caught up with it. We are much more used to music which slews between quiet-loud-quiet, has one foot in rock and another in jazz, doesn't shy away from pastoralism (thanks young Pink Floyd) and references medievalism and the mythic (cheers, Tolkein and Peter Jackson).
In that regard maybe remixer Wilson is right: "This reissue has had some of the best reviews Crimson have ever had. Five star reviews. I think it was so far ahead of its time that people simply couldn't understand it, it is a fusion of progressive rock and free jazz, and the original production was not that great.
"The original mix was very muddy and muted, so what we did with the remix was we shined up a jewel which had been lying in mud.
"Lizard is the [King Crimson] one I have always had a special affection for, even more so now for being partly responsible for changing the perception of that record.
"Rolling Stone's review of the albums said that Lizard was now revealed to be the finest King Crimson of them all. That for me was the greatest vindication of the whole [remix] project, that they would say this album which had been previously ignored by all but the most hardcore Crimson fans was now revealed. Even Robert has a new appreciation of it, he had painful memories of the making of it."
But is it that good?
Well, yes and no.
On a purely musicl level it is utterly fascinating and acceptable and interesting and challenging and even enjoyable. But then lyrically . . . ?
If prog-rock was never you thing then don't come here expecting some great revelation. It is what it is.
But in that perhaps the world wasn't quite familiar with such expansive musical and sonic territory within rock's broad church, then Wilson is right.
He and Fripp have shined up something flawed but semi-precious -- and one which may always seem a rhinestone if you prefer polished demantoid.
And of course, as you might expect, this remix/reissue comes with every version an audiophile might require beyond the stereo remix: a DVD version of the original album in 5.1 surround, something called the MLP lossless stero/PMC stereo 2.0 mixes or some such. Alternate takes too.
Lotta Lizard if you are prepared to go where few ventured at the time . . .
Like the idea of this? Then check out Steven Wilson's latest album here.