Graham Reid | | 2 min read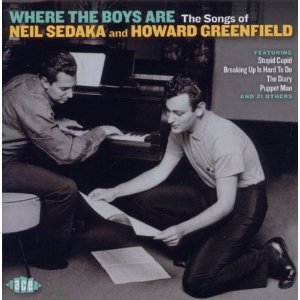 Right at the end of Captain and Tennille's huge pop hit Love Will Keep Us Together in '75-- written by Neil Sedaka and Howard Greenfield -- you can hear Toni Tennille spontaneously weave in the line "Sedaka is back".
In fact Sedaka -- who had been writing pop hits with lyricist Greenfield since Connie Francis' Stupid Cupid in '58 -- had never really been away. The previous year he'd charted in the US with the title track of his album Laughter in the Rain and -- a decade after his previous top 20 hit but by no means his comeback when you look at the evidence -- he'd just been signed by Elton John to his newly launched Rocket label.
Elton was such a fan that when another artist (Lea Roberts) tried to release her version of Laughter in the Rain, Elton and his manager John Reid used their muscle to prevent it getting radio play and put out Sedaka's original, which went to number one.
At the time the Carpenters also had a hit with his Solitaire.
Sedaka -- who went to Juilliard while hawking songs and playing piano in a hotel lobby in the mid Fifties -- teamed up with Greenfield and were the first writing duo signed to Aldon Music at 1650 Broadway (near the equaly famous Brill Building of songwriters).
They immediately started churning out classy little pop songs which were covered by the likes of Connie Francis, Bobby Darin (Keep-A-Walkin'), Carole King (Breaking Up is Hard to Do), Wanda Jackson (Fallin') LaVern Baker (I Waited Too Long), the Everly Brothers (Crying in the Rain), Dionne Warwick (the question and answer Get Rid of Him with a kind of proto-rap spoken part), Peggy Lee (the sophisticated lounge-sound of Bewitched), the great Lesley Gore (Magic Colours), Gene Pitney (It Hurts to be in Love) and many others . . . all of those included on this well annotated 25 track collection which closes with Sedaka on You're Knocking Me Out.
From Stupid Cupid to the Monkees' The Girl I Left behind (Sedaka with emerging lyricist Carole Bayer), this is a collection which showcases song-craft, where there is barely a spare word and aching boy-girl love is to the fore.
The Cookies' Foolish Little Girl is a stand-off between the girl who tossed over her boyfriend who is now marrying another and her unsympathetic friends in the chorus saying "forget him, there's not a single thing thing you can do".
Sounds a little naive today perhaps, but there's no denying the durability and catchiness of many of these songs, most of which come with some memorable vocal inflection ("stupid cupid, STOP pickin' on me!") or clever arrangement.
Hell, they even made messy suicide sound fun on Clyde McPhatter's Since You've Been Gone: "I'm gonna go walking by the railway track, gonna let the choo-choo cross over my back, life ain't worth living, I can't go on, since you've been gone . . ."
And if you've never heard Connie Francis' exceptional treatment of the title track it is here in excellent company.
Like the sound of this nostalgia? Then check out this excellent collection.