Graham Reid | | 2 min read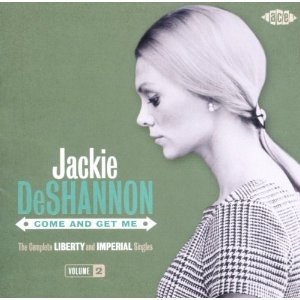 Ask anyone of "a certain age" who the best/most interesting women pop singers of the mid Sixties were and they might tick off a familiar list: Dusty Springfield, Cilla Black, any of the Spector school of girl groups, the Supremes and so on.
It's unlikely Jackie DeShannon from Kentucky would come to mind for most but she was certainly in the top rank, but also one of the most unlucky.
But DeShannon wrote the classic When You Walk in the Room (covered by the Searchers and the Ramones among many others) and Come and Stay With Me (the hit for Marianne Faithfull which she co-wrote with Jimmy Page, then a session guitaist who worked on a number of her sessions).
She was unique in that she was the whole package: she wrote her own songs, was admired by some of the most gifted arrangers and writers of her era (among them Randy Newman with whom she co-wrote the wonderful Hold Your Head High and She Don't Understand Him Like I Do) and was friends with Jack Nitzche, Hal David and Burt Bacharach, Jerry Leiber and Mike Stoller . . .
When she opened for the Beatles on tour in the US in '64 she had Ry Cooder in her band.
But DeShannon was also unlucky: her version of When You Walk in the Room was upstaged by the Searchers' version because the pop world had it's head turned to the British Invasion, her British hit Don't Turn Your Back on Me (recorded in Abbey Road with Page) failed to get much airplay in the States, she changed record labels, and frequently her songs weren't released (although many were covered by the likes of the Byrds who backed her on Splendor in the Grass, Peter and Gordon and others). Her albums appeared as cobbled together cash-in items which mixed up old material with new songs.
But a collection of her mid-Sixties period like this one -- which covers '64-'67 -- reminds just how terrific she was, and how she could turn her hand to everything from Beatles-influenced pop-rock (her version of Buddy Holly's Oh Boy comes with Little Richard/She Loves You "ooh oohs") to jangle pop (When You Walk in the Room), teen angst (Hold Your Head High and She Don't Understand Hom Like I Do) and treatments of Bacharach-David ballads (she was first out of the gate with What the World Needs Now is Love).
Some of the later Bacharach-David numbers aren't their best, but it is her own material that stands tall even now.
Clever and powerful songs like I Remember the Boy allude to Searchers-like jangle pop and A Rose in Spanish Harlem equally, and with the Byrds behind her she delivers accomplished folk-rock on Splendor in the Grass. Are You Ready for This (a cancelled single) sounds like a lost Supremes song, and on its flip side was her Motown-styled version of Will You Still Love Me Tomorrow.
This well annotated collection of 26 singles and their often equally impressive B-sides should ensure Jackie DeShannon starts appearing in those lists of the best/most interesting pop singers of the mid Sixties.
Like the sound of this? Then check out this.