Graham Reid | | 1 min read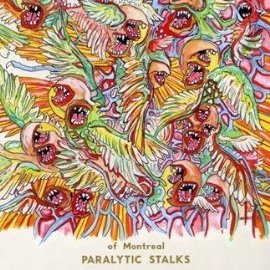 Quick rule of thumb? Avoid songs which have the word "destiny" in them, they are usually worthy, pretentious, over emotional and . . . frankly, they are usually awful.
Now we might add "quotidian" as a caution (it appears here on this truly over-wrought album) and indeed any songs which have as titles Malefic Dowery, Ye Renew the Plaintiff, Excorsismic Breeding Knife and Authentic Pyrrhic Permission.
No, true.
And you can guess with titles like those Kevin Barnes -- who here helms the previously excellent Of Montreal -- doesn't hold back on the lyrics. He sounds like he's written a polysyllabic undergrad essay and is determined to have you pay attention in the everything-and-the-kitchen-sink production.
Sonically you have to imagine all the odd effects from Sgt Peppers mashed up with early Mika/Pop Levi/Sleepy Jackson campy grandiloquence . . . but without the humour.
This is -- despite the sonic sensaround of widescreen orchestration, massed guitars, psychedelics and big beats -- rather dour and presumably cathartic stuff for Barnes who deals out a line of anger and revenge which is variously shrill or raging, and always heavy on the polysyllables . . . which add up to not very much at all.
I read somewhere he has been through a divorice and this is him letting her know exactly how pissed off he is.
Maybe, you'd need some kind of decoder to get most of what he babbles on about.
Could have been fun if he'd used this cuisinart approach to song construction to something more uplifting, but -- aside from the eight minute cosmic free-form Excorsismic thing -- is just hard, joyless work.
At the end of the hour you might wish she'd got custody of the studio until he gets a little more perspective.