Graham Reid | | 1 min read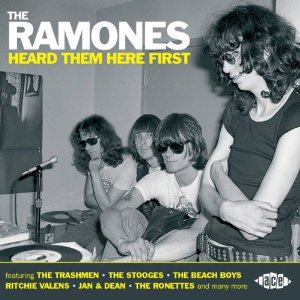 Always intertesting to quote Shakespeare in the context of the Ramones, but the Bard said (in King Lear), "Nothing will come of nothing".
And the minimalist sound of the Ramones didn't come from nothing.
They unashamedly drew on Fifties and Sixties pop like girl groups, Phil Spector productions (such as shame he would screw them over when recording them), the Beach Boys, the Searchers jangle-pop, nonsense stuff like Surfin' Bird by the Trashmen . . .
Throughout their career -- on albums, sometimes on B-sides and notably their '93 covers album Acid Eaters -- the Ramones acknowledged their trash pop influences and the classic sounds of the past.
After all, here were guys who grew up with (as they said) "rock'n'roll radio" so the Ronettes' Baby I Love You, Sonny and Cher's I Got You Babe, the Troggs' I Can't Control Myself, the Byrds' My Back Pages and Jefferson Airplane's Somebody to Love was music they heard coming at them down the airwaves when they were impressionable teenagers.
They even covered the 1910 Fruitgum Companies' emotional bubblegum pop Indian Giver . . . and the original is here sounding real fine.
This collection follows in the well established tradition of albums and DVDs of music which influenced the Beatles, Dylan, McCartney, Led Zeppelin and so on . . . so here you get 24 exceptionally diverse tracks which reach from the Chambers Brothers' psyched-out classic Time has Come Today to Louis Armstrong's Wonderful World, which Joey covered on his 2002 solo album.
Along the way this becomes partytime jukebox as the Searchers' Needles and Pins is followed by Richie Valens' Come On Let's Go and then Baby I Love, I Got You Babe, the Music Explosion's garageland Little Bit o' Soul . . ,.
And as well as those acts mentioned above, you get Jan and Dean (Surf City), The Seeds (Can't Seem to Make You Mine), the Amboy Dukes (Journey to the Center of the Mind), Love (7 and 7 is) plus their covers of Tom Waits' I Don't Wanna Grow Up and returning Lemmy's tribute to them by covering Motorhead's R.A.M.O.N.E.S.
Put another way, this was the Ramones' back pages . . .and something came of this something.