Graham Reid | | 1 min read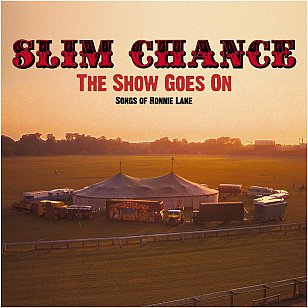 There is a lovely but very sad doco The Passing Show about the life of the late Ronnie Lane, formerly of the Small Faces and Faces, who died -- more correctly wasted away through multiple sclerosis -- in '97.
Lane went his own unique way after he quit the Faces and lived like a genuine back-to-the-land gypsy/hippie lifestyle and toured with his band Slim Chance like some traveling circus. The music was country-flavoured and enjoyably ramshackle, the returns very small despite a decent hit with How Come.
But Lane was always much admired and respected -- he recorded the Rough Mix album with Pete Townshend (a charming, almost classic collection) and toured with Eric Clapton.
When he got sick -- and was rather broke -- famous friends rallied around for a series of fund-raising concerts and among the line-ups were Clapton, Jimmy Page, Jeff Beck, various Rolling Stones and Faces and others.
In the last decade of his life he moved to Texas then Colorado (where he died) and over there had another version of Slim Chance (which included Alejandro Escovedo).
A couple of remaining members of the UK Slim Chance accordionist/fiddle player and pianist Charlie Hart and guitarist/mandolin player Steve Simpson seek to keep Lane's music and spirit alive on this modest collection of 10 of his songs by bringing in others who had worked with Lane (in The Passing Show) and guests.
This album of Lane's post-Faces songs includes Flags and Banners which was a rare collaboration with Rod Stewart, Lost written with Ronnie Wood, and You're Too Rude with Ian McLagan, all three of them former Faces members.
Lane's songs have a jaunty, folksy feel (drawing from both British and American traditions) but the notable exception here is the affecting ballad Don't You Cry For Me with subtle slide guitar from Simpson and a lovely vocal by Steve Bingham.
Elsewhere though things hit a New Orleans-styled zydeco-meets-Fats Domino sound on Rats Tales with singer-pianist guest Geraint Watkins, a lyrically self-critical with barrelhouse piano on Silly Little Man (the former on Rough Mix and the latter recorded at the same time but not making the final cut).
This is low-key stuff and doesn't sound like it would make anyone reassess Lane's career because it is perhaps too much like garden bar uncle-rock. But you could do a lot worse than check out that wonderful and moving doco The Passing Show.