Graham Reid | | 2 min read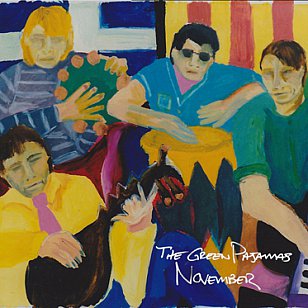 Because Elsewhere has long been convinced of the special musical gifts of Seattle's Jeff Kelly -- whose band Green Pajamas long parlayed a smart twist on the Beatles' Rain/Paperback Writer period, but with some real dreamy psychedelic touches -- we'll always bring you info on his albums, even if our enthusiasm might go into a chasm.
But this is an unusual one. Way back in '88 Kelly had "the bright idea of recording a live show and releasing it on cassette only". The plan changed a little -- a bunch of friends and supporters invited into a studio as the band raced through 18 originals, some rather old, some getting that way and a few in their infancy.
Kelly subsequently had his doubts about releasing the cassette given the momentum built up by the acclaim for their previous album Book of Hours, but with a bit of remixing he was satisfied.
A full decade later band member Joe Ross -- not in Green Pajamas when Jack Endino recorded the cassette November -- remixed the album with Endino . . . and it now appears on CD for the first time.
So given that provenance it's a mixed bag from Kelly and band: the opener Mary Magdalene hits the perfect midpoint between Tobacco Road/Jean Genie rock, Stephanie Barber is a highpoint as a slow builder into Only Ones-like guitarpunkadelics, I Wish It Was Christmas rises above its title as menacing street-smart rocker, Suzanne about his artist wife is an impassioned and fuzzy rocker with a spinning-out guitar part . . .
But the ambitious piano ballad Just Like Seeing God seems almost endless (it's a touch over five minutes) and as its images pile up you feel an editor could have pulled a very smart Lennonesque song out of it (notable from the emotional feel/more refined lyrics about two thirds the way through) and Down ("on me") is just a little creepy ("Yes I know that you're young . . .")
And in a couple of other songs you might think Rutles/ELO.
Multi-instrumentalist Steve Lawrence delivers some terrific songs (the guitar jangle of Strange City Days with its McCartney Rain-era bass, the urgent pop of Far Away) but this was to be his last appearance with the band.
Keyboard player Bruce Haedt kocks of a couple of chunky if sometimes lyrically clunky pop-rockers (Get Away, the silly but kinda fun B-grade This Tyme, the poppy Temple Sisters) and the interesting The Sickness Lovers Despise, and drummer Karl Wilhelm is also in the running for "player of the day" too for his driving fills and relentless energy.
And we must guess their signature slightlydelic song Green Pajamas not only gave them their name but was a huge audience pleaser with its singalong chorus and obvious humour ("she's as pretty as the Queen of Sheeba/prettier than Princess Diana . . . I love her in her green pajamas")
This wouldn't be the album Elsewhere would recommend to Green Pajamas newbies (maybe go to Just a Breath Away among others, see the links below, for that) but once you in on their game you'll thoroughly enjoy this sort of rough-edged juvenilia enthusiasm.
Sorry to bore you with this, but Elsewhere will always champion Jeff Kelly from Seattle. Not just coz he's a nice guy (he is, see the interview below) but because he has made some of the finest but most overlooked pop-rock known to Elsewhere.
For the full catalogue of Green Pajamas/Jeff Kelly albums (like, more than 30!) on Green Monkey Records go here.
Jeff Kelly is interviewed at Elsewhere here, and answered our Famous Elsewhere Questionnaire here. There are Green Pajamas album reviews here, here and here inna country style! (See we told you we were fans)
Another Green Monkey artist, the eccentric Jim of Seattle is interviewed at Elsewhere here.