Graham Reid | | <1 min read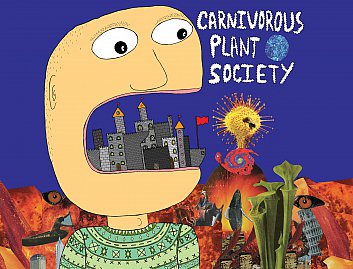 Drawing on everything from cool and classic Miles Davis, sci-fi, Mexican music, Spaghetti Westerns and ambient sounds, this large ensemble lead by Auckland horn and keyboard player Finn Scholes (who also did the cover art and animated videos) doesn't exactly try to be all things to all people.
But you can imagine listeners with catholic tastes and a disposition to the unexpected would happily embrace it . . . because it does seem to deliver all things.
With suggestions of classic MOR ballads (is that a Bacharach I hear?) hinted at, pieces which morph cleverly (the tight but all-embracing Spider Wolf crams a lot of musical information and enjoyment into just 4.40) and big band funk at times, this is a seriously all-encompassing 40 minute ride.
At times it wants for a little more focus -- the ADHD nature of it is appealing but demanding so the shimmering guitar piece entitled Bob Dylan comes as a nice respite.
But even if it does occasionally sound like a calling card or showreel you can't deny the talent on display, or the enjoyment to be had.