Graham Reid | | <1 min read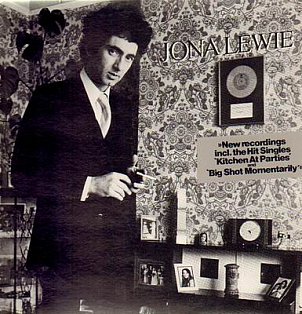 Stiff Records in the UK pulled together an unlikely roster of acts in the late Seventies from Elvis Costello to Ian Dury, Rachel Sweet to Jona Lewie, Larry Wallis to Graham Parker and Wreckless Eric.
Lewie was in his early 30s when Stiff picked him up (Rachel Sweet was 17) and he'd already had his career: he'd played boogie woogie piano in jazz bands as a teenager, toured in a band which supported Derek and the Dominoes, and with Brett Marvin and the Thunderbolts enjoyed a hit with Lewie's Seaside Shuffle under the name Terry Dactyl and the Dinosaurs.
Erk.
And then after a few years in the wilderness he was picked up by Stiff for an album (On the Other Hand There's a Fist) which sprung this one-off wonder of cheap synth-pop.
After that his career was wayward to say the least: his song Stop the Cavalry was big in Britain (see clip) but just about everything else he did either failed, or charted in a foreign territory.
Lewie is still performing but he never quite captured the moment as well as on this droll single.
Stiff believed everyone had one hit single in them.
In a way they were right.
For more oddities, one-offs or songs with a backstory see From the Vaults.