Graham Reid | | 2 min read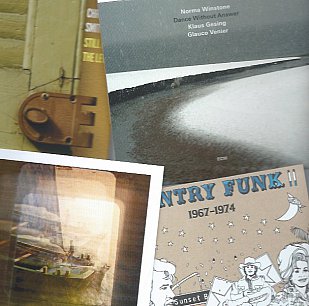 With so many CDs commanding and demanding attention Elsewhere will run this occasional column which scoops up international artists, in much the same way as our SHORT CUTS column picks up New Zealand artists.
Comments will be short . . .
Various Artists: Country Funk II 1967-74 (LITA/Southbound). The excellent archive label Light in the Attic continues its exploration of this loosely defined genre but this beautifully packaged 17-song collection is as uneven as its predecessor. Bobby Darin (as Bob Darin) appears again, this time with Me and Mr Honer which is word-spinning yarn; JJ Cale drops by with his delightful Cajun Moon; and the young Kenny Rogers with the First Edition with seriously funky-stoner rumination Tulsa Turnaround. Among other big names are Willie Nelson (with Shotgun Willie), Hoyt Axton (California Women), the great Jackie DeShannon (the Band's The Weight) and Dolly Parton (Getting Happy). Among the more unexpected artists and songs are Townes Van Zandt (Hunger Child Blues) and Dillard and Clark with a country but hardly funky version of Lennon's Don't Let Me Down. And that's true about much of what's here. Good comp which is best enjoyed if you ignore the expectation the title sets up. So patchy, but among others Billy Swan's funereal slow and moodily echoed Don't Be Cruel is a gem.
Chris Smither: Still on the Levee (Homunculus). This double disc, paperback-sized package -- with a booklet of lyrics and a short introductory essay -- is subtitled "A 50 Year Retrospective". So if you've missed this great singer-songwriter -- who writes wind-battered country songs, blues-based and road-hardened ballads and offers smart urban observations -- you might wonder where he's been all your life. Much respected by his peers (players here include Allen Toussaint, Loudon Wainwright, Dana Colley and Jeremy Lyons of Morphine) and with songs covered by Emmylou Harris, Bonnie Raitt and Diana Krall, Smither -- who has previously appeared at Elsewhere here -- can be a rewarding discovery. And these 15 songs from his extensive back-catalogue, recently re-recorded in New Orleans, are a fine place to start. A real troubadour. Check the clip, he looks and sounds great for a man closing in on 70.
The Autumn Defense: Fifth (YepRoc/Southbound). Actually, I lied. This can hardly be counted as a "recent" release given it came out in January, but this copy has only just turned up on my desk so . . . Originally a side-project for onetime Wilco and Uncle Tupelo bassist John Stirratt and pal Pat Sansone, Autumn Defense have now clocked up this, their fifth album of very pleasant pop-rock which has echoes of the lighter end of Dwight Twilley (with George Harrison-sounding slide from John Pirruccello on This Thing That I've Found) and Badfinger. There's certainly a dollop of Beatles '65 here too. Mostly this is polite powered-down power-pop which is well crafted but never really gets under the skin. If you like the softer end of the Raspberries, Shoes etc this will feel comfortable.
Winstone/Gesing/Venier: Dance Without Answer (ECM/Ode). British jazz singer Norma Winstone again teams up with bass clarinet/soprano sax player Klaus Gesing and pianist Glauco Venier for a programme of originals and some unusual choices of songs from other artists (Madonna's Live to Tell, Nick Drake's Time of No Reply, Tom Waits' San Diego Serenade and Fred Neill's Everybody's Talkin' among them). She also pens lyrics for Ralph Towner's A Breath Away. The tone is emotionally cool, the music understated and elegant, the mood focused and calm. And those "covers" become completely new songs as they are fashioned into art music by these sensitive hands. Sophisticated winelight music for slow evenings. Quite beautiful.