Graham Reid | | 1 min read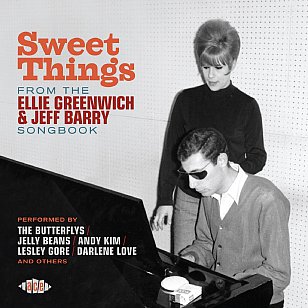 While it would be easy to dismiss a collection like this by a cursory glance at the titles -- Gee, you just collect a bunch of Brill Building hits from the Sixties, right? -- there is so much more going on here than first meets the eye.
Okay, hits penned by Greenwich and Barry (together or solo) are here: Why Do Lovers Break Each Other Hearts by Bob B Soxx and the Blue Jeans; Then He Kissed Me by the Crystals and Leader of the Pack by the Shangri-Las (the first two co-writes with Phil Spector, the latter with George "Shadow" Morton).
But there are real gems among the others by the team of Greenwich and Barry, who were briefly real-life partners.
There is lovely syryp here: Darlene Love with Today I Met the Boy I'm Gonna Marry (Spector again); Little Bell by the Dixie Cups; the over-orchestrated What's a Girl Supposed to Do by Leslie Gore . .
And Sixties handclap girl group pop: Whisper Sweet Things by the Jelly Beans; Gee Baby Gee by the Butterflys . . . and Tony Pass sneaks in as a male version in the genre with Spring Fever.
But here too are the Ronettes with I Wish I Never Saw the Sunshine co-written by Greenwich/Barry with Spector and recorded in '66 but which went unreleased for a decade; the melodramatic I'm Nobody's Baby Now by the great but often forgotten Reparata and the Delrons (whose big hit was Captain of Your Ship), the slightly sleazy Am I Grooving You by Freddie Scott (mentioned previously here) and the power pop Paley Brothers with Baby Let's Stick Together recorded in the late Seventies (which shows how perilously close to Greenwich/Barry et al sometimes were to bubblegum).
There's also the wicked Wilson Pickett with his soulful version of Sugar Sugar (previously a hit for the Archies), Dusty Springfield with the aching What Good Is I Love You (Greenwich's original vocals wiped and Dusty's added) and songs by Greenwich and Barry as solo singers (You Don't Know and Our Love Can Still Be Saved, neither earth shattering however).
And the Exciters with He's Git the Power, and Andy Kim who had a hit with his somewhat pointless re-recording of Be My Baby in '70.
With pithy liner notes -- which show just how small this world around the Brill Building was with the interconnections of artists, songwriters and producers -- this is a shamelessly retro collection of often minor classics within the genre and shines a light into some forgotten corners.
Ace Records (distributed in New Zealand by Border) to an excellent line in such reissues. Check ot Elsewhere's previous coverage here.