Graham Reid | | 2 min read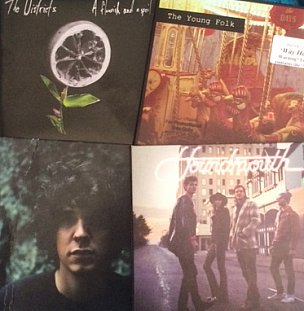 With so many CDs commanding and demanding attention Elsewhere will run this occasional column which scoops up releases by international artists, in much the same way as our SHORT CUTS column picks up New Zealand artists.
Comments will be brief.
Houndmouth; Little Neon Limelight (Rough Trade): From Indiana and signed to Rough Trade, Houndmouth -- a four-piece of three guys and a gal, all of whom sing -- prove on this second album that doing nothing wrong does not necessarily mean you are doing anything right. This is little more than pleasant -- and yes, sometimes pleasing -- MOR roots rock with a nod to country, but very little reaches out to command your attention. They have some story songs; mention coffee, cigarettes and wine (that's for urban hipsters) and the county line (for the country crowd); rock out a little (Black Gold, Fifteen Years which is part Band/part Buddy Holly before the crowd-pleasing whoop-out) and . . . They aim squarely at the areas where no one can take offence, offer well-crafted songs, imagery that works ("I used to her picture on the cover of a dirty magazine, she looked best when she was mine") and so on. This is the sound of professional, deliberately rough but polished pop-rock that passes for something more earthy than it actually is.
Tobais Jesso Jnr; Goon (True Panther): You hate to come off all "old guy", but once upon a time a piano playing singer-songwriter meant the great Harry Nilsson or Billy Joel (who for all his sins could paint a picture and rock out). Now we get the debut by this Canadian, one of the really polite ones, not like Neil Young or Joni Mitchell and a loooong way from Leonard Cohen, let alone Harry and Billy, in his lyric writing. He almost approaches white-boy soul on How Could You Babe (which cries out for yearning cover) bt too often descends into the worst of McCartney sentimentality (with better words). Despite getting big-ups from Adele who tweeted about How Could You, apparently (which is understandable, she'd tear your heart out with it) and having some really lovely stuff here (Without You, not the Badfinger/Nilsson song) and The Wait (finger-picking guitar, a standout) you hope that very soon he'll go on a bender, sleep with all the wrong people and get some more grit in his skin and soul before his next album.
The Young Folk; The Little Battle (Pixie Pace): When the Lumineers broke through with their single Hey-Ho, here at Elsewhere we observed that bar bands in Dublin were probably covering it, it was that kind of song). My guess is this Irish band -- much acclaimed as the most promising in the land, "serious challengers for the area populated by the likes of Fleet Foxes, Mumford and Sons and the Low Anthem" according to Hot Press -- could do a terrific rendition of it. With fiery fiddle, Anthony Furey's sharply melodic voice and a driving backbeat (check their single Way Home) they sometimes do sound like real contenders in a mighty crowded field. Furey -- whose dad George was one of The Furey Brothers -- writes literate lyrics and knows how to deliver them in a pub-folk manner which should translate well in bigger venues. A band you could miss entirely and therefore not miss at all, but if you catch them you'll be caught. Worth checking out, with a bit of volume.
The Districts; A Flourish and a Soul (Fat Possum): There are 15,826 working bands in the US making a noise not dissimlar to this outfit from smalltown Pennsylvania, but those origins set them apart a little for their rather desperate brattishness and a sense of wanting to be much more hip and big-city urban than their origins. They could almost be New York, backstreet Detroit or shabby LA of about a decade ago. And they are unashamedly a guitar band with a burn to tell stories of outsiders and kids' passions. You gotta like all that . . . so even if originality isn't their forte right now they are at least energetic and play like they mean it, and perhaps need to do this. Points in on all counts then.