Graham Reid | | 1 min read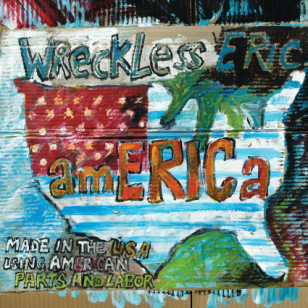 The cheeky post-punk rocker Wreckless Eric was among the many interesting and somewhat eccentric choices to be on Britain's Stiff records, alongside Ian Dury, Jona Lewie, Lena Lovich and Rachel Sweet.
Eric – Eric Goulden – delivered some of the most enjoyably ragged rock and thrashy folk-framed songs (a recently reissued album from the early Nineties was entitled The Donovan of Trash) to come out of that era.
And on the evidence of this new collection he hasn't lost his acerbic wit, but now it is coupled with an even more needle-sharp cynicism (notably on his lament about how crap the promised future has turned out on Space Age, and a brutally barbed poke at a Take That-like group and re-formed acts on Boy Band).
He wakes up in Wyoming and is "unimpressed by God's Glory" on Life Eternal.
The hilariously archetypal Several Shades of Green opens this with "I was nearly someone back in the day, I was in the lower reaches of the hit parade . . ." over a riff that could have come from his classic period, and proceeds to skewer his former bands and himself but concludes "If I'd known then what I know now . . . I wouldn't do it different I'd do it all again, I'd take my time, I'd stand in line for Groundhog Day, I'd do it all again for another crack at the hit parade".
But then he adds a Rotten-like witheringly ambiguous coda "What do you think?"
He can still deliver a thoughtful ballad (Sysco Trucks about moving vans and longhaul vehicles carrying people and goods across the USA, the increasingly weary but angry Transitory Thing about how the world and its people are becoming drearily homogeneous as he's observed in decades of the touring life).
Days is like his vinegary flip on Ray Davies wistful song of the same name.
This is Wreckless Eric back on the same old form, which is pretty top.
And he packages all these ideas and observations in tight pop songs, only a few of which bust the three-minute mark.
You'd say "Welcome back", but it's as if he's never been away.