Graham Reid | | 4 min read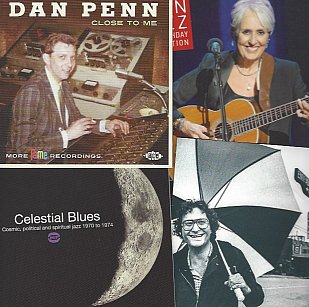 With so many CDs commanding and demanding attention Elsewhere will run this occasional column which scoops up releases by international artists, in much the same way as our SHORT CUTS column picks up New Zealand artists.
Comments will be brief.
Randy Newman: The Randy Newman Songbook (Nonesuch/Warners)
It's always a great disappointment when the opportunity for a phone interview comes up with some interesting musician, but it's only for 15 minutes. So it was in '99 when Elsewhere spoke with Randy Newman, the great American composer and wry social observer whose catalogue is so vast and nuanced that he is deserving of books and a doctoral thesis. For Elsewhere, Chris Bourke wrote an excellent piece just about Newman's early career in the Seventies.
For those who only know Newman for a few songs – Kingfish, Short People, Sail Away or his songs and instrumentals in the Toy Story movies – this four CD collection (which pulls together the previously released three Songbook releases and five additional songs) is the ideal starting point into his solo work.
Perhaps this much Newman at piano might be a tough call (no one says you have to listen to these 56 songs in one sitting) but as he revolves through characters, plays delightful miniatures (Ragtime), exercises that acerbic wit (Rednecks), explores American and world history through his own fractured prism (Louisiana 1927, The Great Nations of Europe, A Few Words in Defense of Our Country) or plays songs you never knew were written by him (Keep Your Hat On the hit for Joe Cocker) this is an enjoyable, provocative education. And he's sometimes very, very funny. Or moving.
I'm Dreaming
Various Artists; Joan Baez, 75th Birthday Celebration (WNET/Concord)
And no, of course Bobby is not among the guests who lined up for this tribute in New York's beautiful Beacon Theater back in January to Joan Baez, here captured on this double CD/DVD set. Baez hosts her own party opening with two understated but powerful guiding principles in Steve Earle's God is God and her early signature song There But For Fortune before a roll call of admiring guests join her. Among them are a slimmed-down David Crosby, Mary Chapin Carpenter (on Donovan's Catch the Wind), Emmylou Harris, Damien Rice (a powerfully droning She Moved Through the Fair), Jackson Browne (whose contract seems to insist on few close-up of the work he's had done), Mavis Staples, the Indigo Girls, Richard Thompson, Judy Collins (Diamonds and Rust), Paul Simon (with her and Thompson on The Boxer) . . . She closes with The Night They Drove Old Dixie Down and Dylan's Forever Young.
She traverses some of her own autograph work (Swing Low Sweet Chariot and telling her MLK story) but also defers to the Beatles (Blackbird with Crosby), Dylan (Don't Think Twice, a little dig before Seven Curses), Woody Guthrie (the still timely Deportee with Harris and Browne) and the work of others. But it is that quivering voice (more restrained here than in a recent Auckland concert where she indulged in some disconcerting octave leaps) which keeps the focus on the songs rather than bending them to her own will. Classy lady, beautiful and reverentially filmed concert before a star-studded audience (who of course sing her Happy Birthday).
Babe, I'm Gonna Leave You, written by Anne Bredon. c 1958
Dan Penn: Close to Me (Ace/Border)
Subtitled "More Fame Recordings" this 24 track sequel to an earlier volume by this great Southern soul songwriter (and a number of other similar reissues, their tracklistings not repeated here). These songs – many aching with loss which Penn delivers with more insight and passion than required given they were demos to shop around – were among more than a hundred which Penn (with collaborators like Spooner Oldham, Donnie Fritts and Matlin Greene) laid down at the famous FAME studio over two years in the mid-Sixties. There are aching soulful unpolished diamonds here, among them Without A Woman ( a close cousin to When a Man Loves a Woman)
Some of these were recorded by big stars (Trash Man sanitised by Barbara Lynn, Little Girl by Percy Sledge, She Ain't Gonna Do Right by Wilson Pickett, I Love Everything About You by Bobby Hebb among them) and the spirit of early Otis Redding, Pickett and Joe Tex hovers over a number of others (Miss Personality with its grunts and pushes, She Ain't Gonna Do Right just a kiss away from That's How Strong My Love Is) and Penn remains one of the blackest white men on the planet. There's swamp funk here from the studio's stellar musicians (Standing in the Way of a Good Thing), a look back to Fifties doo-wop and rhythm'n'blues (Reaching Out For Someone), good-foot funk (Destroyed), country-pop (So Many Reasons) and an oddity in We're Swinging which may or may not be freighted with a civil right message. Because there's sometimes the sense that some of these songs were shaved off or morphed from his classic songs you can't help hear the references . . . but Penn (and pals) was profligate with his genius for a soul song, and here's further evidence.
Without a Woman
Various Artists: Celestial Blues (BGP/Border)
And now for something completely different. Sun Ra and John Coltrane weren't the only jazz musician with their eyes on the distant planets as this collection proves. Subtitled "Cosmic, Political and spiritual jazz 1970 to 1974", this elevating compilation invites in Joe Henderson with Alice Coltrane (the glorious 11 minute Fire from The Elements album), Charles Earland (Brown Eyes), Hampton Hawes (Josie Black), Oliver Nelson (an edited Aftermath written after the murder of Martin Luther King where strings and astringent saxes have a deliberately unsettling effect) and others to make the case for music which reaches the outer and inner worlds.
Prompted by the unexpected success of Kamasi Washington's expansive, three CD set The Epic, the compilers didn't have to look to far too find the music which inspired him, although much of this was written out of the jazz story when the neo-con movement took the rudder of jazz in the Eighties and heading for landfall further back than the volatile and vibrant Seventies.
Essential if you only came to this important journey in jazz with The Epic.
Aftermath by Oliver Nelson