Graham Reid | | 2 min read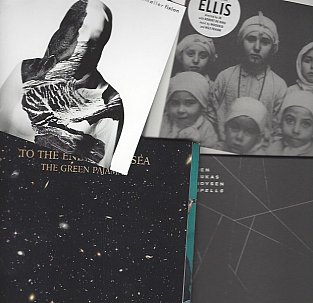 With so many CDs commanding and demanding attention Elsewhere will run this occasional column which scoops up releases by international artists, in much the same way as our SHORT CUTS column picks up New Zealand artists.
Comments will be brief.
The Green Pajamas: To The End of The Sea (Green Monkey)
The mainman of Seattle's Green Pajamas, Jeff Kelly, has long had connection to the classic psychedelic pop-rock of the Beatles/Byrds of '65 – '66 (often with greater lyrical depth) and now thirtysomething albums into a long career he delivers 18 songs – a third of them less or little more than a minute, just astute miniatures -- connected by a narrative. Embellished by strings, horns, piano and the sound of the sea, the story tells of a lighthouse keeper who finds a woman (Juliet) on the beach. The singing narrators are Kelly and Laura Weller, the music a gentle move slightly beyond his signature style and often dialed right back, the whole somewhat mysterious as the lighthouse keeper has his own fractured personality and the woman seemingly no backstory. And Kelly still manages to punctuate in terrific, economic psyche-pop and Syd Barrett-like folk-pop.
Another release from the enormously productive Green Monkey label.
When Juliet Smiles, by the Green Pajamas
Trentemoller: Fixion (Southbound)
This Danish producer-musician – who compiled one of Elsewhere's favourite Late Night Tales collections – furthers his dark atmospherics with this fourth album, wrapping his chill-inducing music in a similar cloak as early Cure and the more brooding end of Britain's New Romantics (think Ultravox around their Vienna period).But over these 12 songs with what is now his working band, he also creates a fascinating arc of discrete moods, upbeat synth-pop alternating with slow-walking pieces which take you through a black'n'white world of some techno-lacquered urban landscape of the future. Melodic, moody and another quietly seductive late night tale.
Phoenicia, by Trentemoller
Ben Lukas Boysen: Spells (Erased Tapes/Southbound)
We belatedly come to this by Berlin-based producer-composer – friend and labelmate to Nils Frahm, see below – which came out a couple of months back. Given the evocative effect of Frahm's playing on the Ellis soundtrack (and that he mixed and mastered this one), it's timely however to make this connection because here Boysen also plays stately, processed piano pieces for evocative, almost ambient effect . . . and one of the pieces Sleepers Beat Theme is an alternative version of a piece Boysen composed for a soundtrack, which coincidentally was included on a Late Night Tales collection by Jon Hopkins. With cello, harp, soft guitar and barely present drums. Titles tell the story: The Veil, Nocture 3, Nocturne 4, Golden Times 1 . . . For followers of Eno ambient music, Trentemoller etc
Golden Times II, by Ben Lukas Boysen
Woodkid and Nils Frahm: Ellis soundtrack (Erased Tapes/Southbound)
Although Los Angeles long took over as the main entry point for immigrants to America, Ellis Island in New York's harbour still evokes images of refugees and the hopeful arriving in the new world. This 25 minute mini-album – just two pieces – is the soundtrack to the film Ellis by the French director and street artist JR, and his striking images of his wall art in Ellis Island buildings are reproduced in the booklet. The music composed by Woodkid (Yoann Lemoine) and played by pianist Frahm is initially elegiacal, quiet and reflective in the first, nine-minute piece Winter Morning I, as if evoking the ghosts of the island's past. The second and longer Winter Morning II – a soundbed of melancholy harmonium which increasingly has a choral quality – has Robert De Niro's spare narration from the film, he speaks as an immigrant from decades ago, a voice from a time when the world was more accepting of those who, carrying meagre belongings, have had to uproot themselves from their troubled homelands in search of peace, dignity and a future. Yet this man's story takes a very dark turn which is compelling, and a ghost comes to life.
The film sounds and looks like a must-see.