Graham Reid | | 2 min read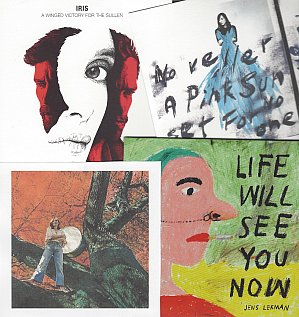 With so many CDs commanding and demanding attention Elsewhere will run this occasional column which scoops up releases by international artists, in much the same way as our SHORT CUTS column picks up New Zealand artists.
Comments will be brief.
A Winged Victory for the Sullen: Iris (Erased Tapes/Southbound)
Although it is usually foolish to get attached to a record label, it has to be said if you like one or two of the elegantly presented albums from Britain's Erased Tapes catalogue you'd keenly gravitate to another, because they have recently been of similar ilk. Especially if you follow the soundtrack thread from Nils Frahm or Adam Bryanbaum Wiltzie, the latter being half of this outfit with Dustin O'Halloran.
This electronica-aware duo deploy real strings in their work to create commissioned soundscapes for theatre production and films, in this case a thriller by Jalil Lespert. In the absence of the movie context these 12 pieces work the borderline between ambience and unnerving landscapes which have a slow and resonant quality as melodic washes are pulled out, subtle effects lurk in the mid-ground and suggestions of Romanticism are undercut by a feeling of foreboding. Enticingly spooky but never clinically cold.
Another one confirming the next Erased Tapes album goes straight to the head of the pack.
Metro Part Three, by A Winged Victory for the Sullen
Jens Lekman: Life Will See You Now (Secretly Canadian)
This fascinating, poetic storytelling Swedish musician immediately conjures up names like Stephin Merritt, a lovelorn Bernie Taupin, Lloyd Cole, Camera Obscura, Belle and Sebastian . . .
There is broken romance and disappointment but the clever arrangements for strings and voices alongside cheap electronic beats -- plus how he confidently explores different genres (much like Merritt) -- make these effortlessly melodic songs delivered in his warm manner meant this lodged itself in Elsewhere's stereo for days. It takes some enjoyable decoding at both a lyrical and musical level (while you are hooked by his imagery about atomic particles you suddenly realise horns have appeared). And damn if they aren't steel drums on the bouncy What's That Perfume You Wear?
With some of the ennui of the New Romantics but with more wry wit, genuine humour and attention to detail, this is a real keeper and highly recommended. Some albums are difficult but rewarding for all the wrong reasons, this is for all the right ones.
Wedding in Finistere, by Jens Lekman
Noveller: A Pink Sunset for No One (Fire)
The cinematic instrumental opener Deep Shelter here by this US composer – here on treated electric guitar and piano – doesn't make her sound like the kind of opening act Iggy Pop might call on, but that's what happened last year. And in truth that piece was written before the tour . . . but although she says this album was inspired by the Pop shows she remains faithful to the art-music end of the spectrum as staked out by Glenn Branca, Fripp and Eno, Steve Reich and Thurston Moore in his more reflective moments.
Noveller (Sarah Lipstate) offers layered instrumentals of various emotional intensities, some are mesmerising, a few quietly gorgeous (the first half of the expansive title track) and others more confrontational. Don't let Iggy be your reference point but rather look at/listen to those other names.
Another Dark Hour, by Noveller
Tift Merritt: Stitch of the World (YepRoc/Southbound)
Inevitably her divorce, new relationship, pregnancy and year off to write and reconsider informs much of this album by the country-tinged singer-songwriter here co-produced with Sam Bean aka Iron and Wine who joins her at the mic for the final three songs.
Tift Merritt has often drawn comparisons with mid-period Emmylou Harris (before Harris adopted a breathy default position) and that is evident here on the engaging Heartache is an Uphill Climb, Love Soldiers On and the title track. When the energy levels go up – notably on Proclamation Bones with guitarist Marc Ribot and steel player Eric Heywood trading licks – this rises above the crafted introspection but occasional sense of torpor elsewhere. The rootsy opener Dusty Old Man kicks things off well but is also in familiar territory and no real indicator of the lower energy levels which follow.
Merritt fans won't be disappointed, but for most these are paths very well worn.
Love Soldiers On, by Tift Merritt