Graham Reid | | 3 min read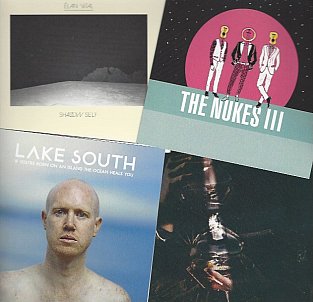 Facing down an avalanche of releases, requests for coverage, the occasional demand that we be interested in their new album (sometimes with that absurd comment "but don't write about it if you don't like it") and so on, Elsewhere will every now and again do a quick sweep like this, in the same way it does IN BRIEF about international releases.
Comments will be brief.
Elan Vital: Shadow Self (Fishrider)
Named for a French phrase from the philosopher Henri Bergson a century and more ago (it roughly translates to vital force or important impetus), this powerful trio out of Dunedin deliver dramatic and intense instrumental psyche-rock (the stentorian opener Shadow Self) and industrial techno-dance (Space) courtesy of synths, drum machines, bouncing bass and disembodied vocals, sometimes processed into robotic anonymity (Hologram).
There can be a scouring intensity at work here (the thrilling Shadow Self, and Possession with its guitar distortion and monochrome beats and textures) but the lead off single Janina comes off like early Orchestral Manoeuvres in the Dark with the emotionally cool vocals of Renee Barrance.
Inevitably with this much synth and drum machine in action the reference points sound all in the Eighties, but there is more of an art-rock with minimalist tendencies here which – after a few plays – really allows Elan Vital to take on an identity of their own.
They never reach the pummelling claustrophobia and heights of the opener Shadow Self however. It is such a commanding statement it demands to be heard.
So here you can.
Shadow Self, by Elan Vital
The Nukes: III (Yellow Eye)
A number of ukulele bands like to think of themselves as quirky or "an odd bunch" (as one lady recently described the outfit she plays in) but that kind of studied attitude isn't for the Nukes who eschew popular covers for originals, a few of which are genuinely quirky without being mannered.
The trio of Dave Parker, Dave Thiele and Ben Collier – plus a few guests here on piano, sitar, electric guitar, fiddle, pedal steel etc – offer an enjoyable folksy swing but also bring a slightly disconcerting but humorous edge too. The opener Call on Me sets up worrying scenarios (bomb on the bus, baby in the burning building, a Creed CD) and the singer is the one you should rely on. It's weird and funny.
They are jaunty (the witty Mankind), rinky tink (the Thirties-styled Palomine, as in pal o' mine, and Congratulations), there's are the obligatory reggae numbers (but On Your Side has a pretty Pasifika feel) and the gentle, water-borne ballad Upon a River with dreamy pedal steel. Things close with the country ballad Pohutukawa Blooms.
There's also a kids' story on Salad Dragon.
The Nukes are smart enough to know when to put the tongue in cheek and when to play a straight bat.
After a few quirky or odd ukulele bands the Nukes come off as funny, sensitive and very clever songwriters. Very refreshing.
Upon A River, by the Nukes
Lake South: If You're Born on an Island the Ocean Heals You (Home Alone)
On the same small label which has recently brought us the wonderful French for Rabbits, Eb and Sparrow, City Oh Sigh and other fine artists comes the debut album for singer/bassist/keyboard player Lake of Urbantramper (who specialised in quietly gorgeous electro-pop). Working not dissimilar territory of synths, programmed percussion and deploying his high and quite gorgeous voice, Lake offers 11 personal songs which have more emotional and musical breadth than that description might suggest.
There is unexpected anger on Good Keen Man (about the lies and optimism we are sold when we're young and then ending up with a student loan and pessimism) but elsewhere he conveys his messages in layers of pop (the catchy title track, Double Grammar Zone/North).
Place and time is important here: Songs here include titles which reference Akaroa, Whanarua Bay, Prospect Terrace and Aro, and Lake reflects on the past frequently and how hopes and dreams are eroded of fail. On Renters he sings of spending all the money on these shitty flats and never being able to afford a house.
Despite some of the surface beauties here (Coast, Aro 2003) he sounds angry at, and disillusioned by, the realities of adulthood and the world he has inherited. Complex, interesting, prematurely nostalgic . . . yet capturing the zeitgeist for his generation?
Aro 2003, by Lake South
Miss Peach and the Travellin' Bones: Sand (Triple A)
This handsomely presented CD – beautiful photography and lyrics conveying a sense of singer/writer Sarah Spurs' gypsy-cum-19th century folk-rock image – looks like an ideal product to take to the international marketplace. These songs allude to the long and dark traditions of murder ballads, vaudeville days, melodrama (Tombstone), exotic if flawed characters on the margins, doomed love and redemption.
Yet many come with an almost upbeat, carnival atmosphere and/or country-folk musical settings which entice for their layered poetics and imagery, sawed violin and cello, and a sense of mysterious "antiques and heirlooms" and fables.
And throughout there is a powerful sense of a strong assertive woman who is tapping into various pasts to give her strength.
Unexpected (we'd never heard of Miss Peach previously) and unexpectedly good.
Highly recommended.
The Ferryman, by Miss Peach and the Travellin' Bones