Graham Reid | | 3 min read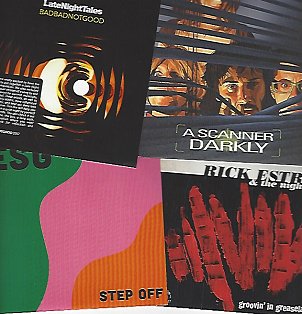 With so many CDs commanding and demanding attention Elsewhere will run this occasional column which scoops up releases by international artists, in much the same way as our SHORT CUTS column picks up New Zealand artists and Yasmin does with EPs.
Comments will be brief.
.
Graham Reynolds: A Scanner Darkly (Fire/Southbound)
Elsewhere has frequently referenced Miklos Rozsa's terrifying soundtrack to The Lost Weekend, wrote an article entitled Death by Hungarian Music, and is known to enjoy the disturbing sounds of Ennio Morricone's experimental music.
So this soundtrack to Richard Linklater's 2006 animated/rotoscoped adaptation of the Philip K Dick late Seventies novel A Scanner Darkly – drugs, disorientation, another dystopian future (LA in the early Nineties) and disfunctionalism – has always had some appeal, but until Spotify wasn't easy to find.
This welcome Fire reissue allows us to enjoy its odd snippets which shift from the benign (the pedal steel Strawberry Pie, the seductive Dark World Where I Dwell) to the downright eerie (quite a few of the 22 short but evocative pieces). It's probably enough to know that left-field composer Graham Reynolds uses his Golden Arm Trio named for the Sinatra/junkie film but who aren't actually a trio and have a revolving door membership.
This is one of those excellent soundtracks which conjure up images in the imagination but which musically probably is best described as sometimes orchestrated post-rock on downers for the courageous and mentally stable.
One of the pieces with theremin and white noise is Are You Experiencing Any Difficulties?
Get the picture? Oh and yes, get the picture which is on DVD.
Bug Bite Squared (from A Scanner Darkly)
ESG: Step Off (Fire/Southbound)
And now for something completely . . . ? This reissue has been out a wee while but it's not too late to acknowledge the post-punk of NYC's all-women ESG (Emerald Sapphire and Gold) captured here on this 2002 album which was quite some departure from the original dance-punk (think Gang of Four) in the early Eighties.
The three black sisters out of the South Bronx at the core bridged black dance and white punk, were often lumped in with No Wave and became one of the most sampled bands of their generation (and responded with an album in the early Nineties entitled Samples Don't Pay Our Bills). They opened for the Clash and recorded in Britain with Martin Hannett for Factory.
But this minimalist music here is perhaps more akin to a female Cure (really early Cure) or a more poppy and melodic Wire, the pointed reductivism of A Certain Ratio or a less lush version of the young Associates.
So plenty of British references there and if any of those mean anything to you the ESG wil be quite some discovery. And even on this barely-there music you can hear why they would be so often sampled.
Recommended.
Sensual Intentions, by ESG
Various Artists: Late Night Tales; BadBadNotGood (LNT/Southbound)
The always interesting and often engrossing Late Night Tales project continues with this compilation of favourite tracks/artists by the Canadian outfit BadBadNotGood who are probably little known but have released four studio albums under their own name, did the 2015 Sour Soul album in collaboration with Ghostface Killah and as jazz-trained musicians have made over hip-hop and rock tracks in a distinctive and often soulful style.
So they have big ears, have done remixes and production work, and here reach widely to pull together such diverse artists as soul singers Gene Williams (Don't Let Your Love Fade Away) and the great Esther Phillips (Home is Where the Hatred Is) alongside Stereolab (The Flower Called Nowhere), Thundercat (For Love I Come), Francis Bebey (Sanza Nocturne), the Beach Boys (Don't Talk), Grady Tate (on the Beatles' And I Love Her) and jazz pianist Steve Kuhn (his early Seventies vocal track The Meaning of Love) into a soulful and thoughtful compilation.
They also offer their own exclusive cover of To You by Canadian singer-songwriter Andy Shauf.
As always in this series – which allows you discover new names, here probably Estonia's Velly Joonas version of Feel Like Makin' Love, Kiki Gyan from Ghana among others – it close with a reading, this time the tobacco-ravaged voice of Lydia Lunch with You, Me and Jim Beam.
One of the more late night Late Night Tales.
Very enjoyable.
People Make the World Go Round, by The Chosen Few
Rick Estrin and the Nightcats: Groovin' in Greaseland (Alligator/Southbound)
And now for something completely . . . normal?
Just to get you back on track into music more formally coded here's a band on the Alligator blues label who open with The Blues Ain't Going Nowhere, follow it up with Looking For A Woman and . . .
Formerly three-quarters of these guys were in the long-running Little Charlie and the Nightcats, Norway-born guitarist Kid Andersen played in Charlie Musselwhite's band and is much acclaimed (deservedly so) and frontman Estrin has had songs covered by the likes Robert Cray and Koko Taylor.
Yes, mainstream inner-city Chicago-styled blues with harmonica, organ, a horn section on Big Money and tight songs. Boundaries not pushed, blues reconfirmed.
I Ain't All That, by Rick Estrin and the Nightcats