Graham Reid | | 1 min read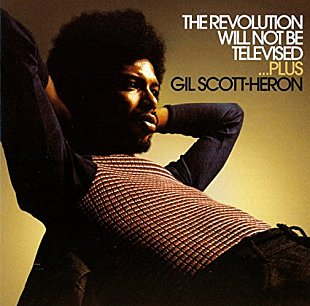 The late Gil Scott-Heron was a jazz poet whose work remains interesting and timeless because he directed his messages to his own people more so than to the white audience.
His famous title track here Revolution – despite its period references which now make little sense – wasn't as many think a warning to the white establishment but to black folks who weren't going to commit to the revolution which at the time seemed actual and imminent.
This reissue of his '74 compilation album (with nine other tracks including his first version of Revolution from his Small Talk at 125th and Lenox album) takes on his own people who were losing themselves on dope, the great Whitey on the Moon (about ghetto life while America boasts about putting a man on the moon), a celebration of how the music and experiences of Billie Holiday and John Coltrane could work as a salve in troubled times, soulful explorations of the plight of the junkie (Home is Where the Hatred Is), calling out posing black revolutionaries (Brother) and so much more.
These songs and speak-sing pieces supported by jazz, light funk and soul music arrangements are quite extraordinary, even now almost half a century after they came out.
Produced by Bob Thiele and with accompaniment from pianist Brian Jackson, bassist Ron Carter, flute player Hubert Laws, guitarist Davis Spinozza and others, Scott-Heron's music was sophisticated, thoughtful and often very moving (Pieces of a Man), politically and socially astute, and never less than honest in its focus on speaking to and from and for his black audience.
Pity that his superb and sad Winter in America isn't among the extra tracks, but these 20 songs – with excellent liner notes to contextualise the music into that extraordinary period and this poet's place in it – speaks from the soul and heart and head, and still seem an uncommonly clear-minded voice from a time when hotheads and radical chic revolutionaries were commanding the headlines.
Essential and sometimes still timely.