Graham Reid | | 1 min read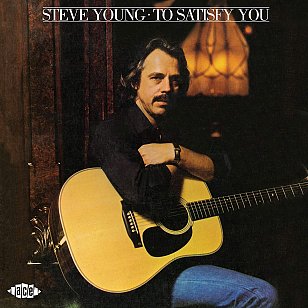 The late Steve Young – who died in 2016 – was one of those literate and interesting singer-songwriters who was nominally country but also had a burnt-blues voice when required.
He was a fine songwriter whose work embraced the nascent country-rock/outlaw country genre, flicked out the fine Seven Bridges Road album and gave signature songs to Waylon Jennings and Hank Williams Jr (Lonesome On'ry and Mean, and Montgomery in the Rain respectively)
And that makes this outing from '81 all the more unusual because other than his own The River and The Swan right at the end everything here is covers, and some would seem odd: Buddy Holly's Think It Over opens proceedings, he covers the blues standard (Sitting) Top of the World, the Stones' No Expectations, the traditional folk-blues Corinna Corinna (which Dylan famously did and here Young plays a fairly straight bat to) and Cat Stevens' Wild World which is taken into a dueling-guitars rock out.
That's a strange and diverse selection but what binds them together is the blues-rock treatment they are given with some searing guitar from Mac Gayden and Dale Sellers, and Young digging deep into the more blues and rock end of his range. At times here – The Contender – he sounds more like Dylan prowling around with the Band in front of a stadium audience, with Dire Straits in attendance.
And They Call It Love is an anguished and moody ballad.
His own River and the Swan – boasting a strong vocal on a ballad of shifting dynamics which brings to mind some of his best work and that of Lee Clayton is somewhat smoothed out by the Gayden's warm chords and sits slightly uneasily even within this diversity.
Garth Cartwright's excellent liner notes make some sense of this unusual album in Young's canon and although at the time it – as with all of his albums – struggled to find an audience it has aged rather better given the landscape for this kind of rockabilly blues and country rock has been more frequently traversed in recent decades.
More interesting and enjoyable than essential.