Graham Reid | | 2 min read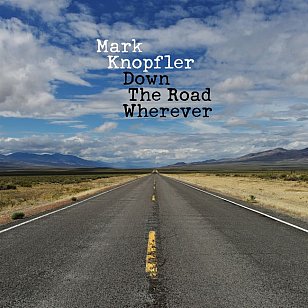 Despite two fine albums (the self-titled debut and Making Movies. Other arguments on a postcard), there are those who will probably never forgive Mark Knopfler for Dire Straits:
Too successful, sometimes too bland, the headband, Twisting by the Pool . . .
But his solo career in recent years has been extremely impressive and albums like the highly recommended double Privateering of 2012 and Tracker (2015) have caught him at the top of his songwriting/storytelling game and refining his guitar work from flashy tell to understated show.
This relaxed collection of 14 new songs – two more on the deluxe edition – again finds him exploring subtle Celtic modes, a fair bit of narrative (some personal, as on One Song at a Time, "picking my way out of here, one song at a time", and Slow Learner), geography which is left unidentified but has plenty of open space . . .
And that zone of laidback blues akin to the late JJ Cale (his original Nobody's Child with signature Straits-style filagrees on guitar, the funk-edge on Just a Boy Away From Home which gently soars in its middle solo which sounds ripe for glorious orchestration),
Back on the Dancefloor with Imelda Mae is a mesmerisingly understated groove with that signature guitar again. It is, we might say, where his solos are his "trademark".
There are achingly beautiful songs here, notably the dialed-back acoustic ballad When You Leave ("there's cordite in the air") which opens and closes with Kind of Blue-trumpet and follows some classic changes . . . although Knopfler's dusty voice makes them his own. It might sound like he's aiming for 2am Sinatra-by-way-of-Clapton but is very affecting.
He later pulls the same trick on Every Heart in The Room which again seems available for a classy and affecting lounge cover.
Certainly over the long haul – the expanded edition reaches an increasingly forgettable 80 minutes because the aces seem played early, even if you reverse the playing order – there is some familiar if not dead air here. It's money for nothing to bet no one will recall much of My Bacon Roll.
And every now and again as you wake and engage again you feel he is sleepwalking . . .
But even late in the play a broody Celtic piece like Drover's Road – which could go unnoticed in a start-to-finish play – is actually quietly convincing and heartfelt. As is Slow Learner.
The Caribbean-styled Heavy Up is surplice to requirements. Jimmy Buffett does this with considerably less -- actualy, no --Northern glumness.
Mark Knopfler has long shed many millions of former-Straits fans and will never persuade the naysayers of his current worth. But that seems to have given him the freedom to just connect with myriad influences – folk, Dylan, Celtic mysticism, Anglo-folk, working-class stories, blues, swamp rock and so on – and find his own voice away from the expectations of chart placings.
He's been the better for that and although this doesn't invite the same affection as the terrific Privateering and the slightly lesser Tracker, it holds his place as someone who is still a contender when it comes to the simple but difficult art of writing and performing fine music.
Knopfler is 70 next year and few of his age are still writing and recording original, as in personal, music.
Mark Knopfler has long since ceased twisting by the pool . . . but is still making movies inside his head and inviting them to his voice and fingers.
It's just a pity he didn't invite an editor in for Down the Road Wherever.