Graham Reid | | 1 min read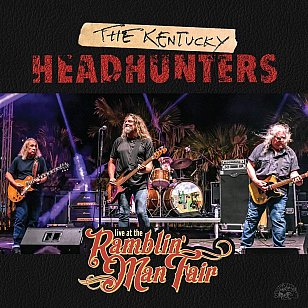 Now this is exactly how you'd want to hear this disciplined, muscular, road-tested Southern rock band with two pivotal brothers in the quartet. It has its roots in the world staked out by the Allmans, Atlanta Rhythm Section (sorry but this link is funny), Skynyrd, Hatchett et al.
The KHeadhunters are probably the unfashionable and enjoyably reductive end of Drive by Truckers.
Here they are loud'n'live at a UK festival a couple of years back, their first overseas dates in 30 years together.
Bracketed by fatback rock versions of Big Boss Man (Elvis by way of Jimmy Reed) and Hi-Heel Sneakers (Elvis again by way of Tommy Tucker) this set of six-pack y'all stomping blues-rock looks briefly back to their then-most recent most recently released album (recorded in 2003) with the then-late Johnnie Johnson, pianist from Chuck Berry's bands.
They get "greasy" on their co-write with Johnson on Shufflin' Back to Memphis (greasy, as in hard rock-meets-blues) where Greg Martin proves – as he does everywhere here – that he is one of the great if overlooked blues-rock guitarists.
And they follow that with Have You Ever Loved a Woman? (which they reclaim in Suthin-rock way from Clapton); their incendiary, fist-tight and dark Southern narrative on their original Wishin' Well; and the Elmore James-framed slide showcase for Martin on Walking with the Wolf.
Their original My Daddy Was a Milkman (with its Bo Diddley tropes) defaults to a drum solo from Fred Young (rarely interesting on record, and not at all here) then they find that aching and angry blues-soul spirit in John Lennon's Don't Let Me Down – another "ya'll" crowd-pleaser for their older UK audience – which they segue into a ragged "na-na-na" from Hey Jude.
Not for Beatle-purists but perhaps enthralling.
If, and it's a Big If, you were there.
Helluva concert closer but . . . .
Then there are three bonus tracks recorded in the studio with Johnson: the classic Arthur "Big Boy" Crudup song Rock Me Baby (co-opted by everyone including Led Zeppelin); the Headhunter's original Rock'n'Roller and that version of Hi-Heel Sneakers.
The amazing/Southern/ rhythm section/brothers et al have never been to New Zealand and given guitarist/singer Richard Young's reluctance to fly – the Bob Seger of the band – they probably won't.
But if they did they would probably deliver something like this Play Loud set.
Given they won't, here's what the world beyond the continental USA has been missing – the few boring bits and all – for three decades.
The first half of the live set is terrific, the studio tracks also. But there's a later live half which . . . Yeah, hmmmm . . .
You had to be there, but we weren't.
Unfortunately.