Graham Reid | | 1 min read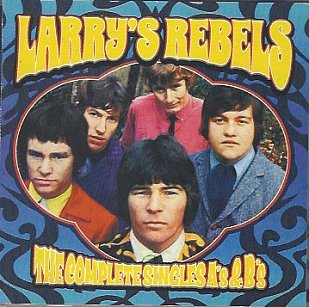 Larry's Rebels – being inducted into the New Zealand Music Hall of Fame this year – were only around for five years in the Sixties (Larry Morris into a solo career, the band enjoying a hit My Son John under their own name before breaking up) but they released a fine album, A Study in Black.
They were however a cracking singles band and although Frenzy's Grant Gillanders has released a few reissues of LR material – notably the vinyl album A Study in Colour and this CD collection -- there's certainly a place for a compilation of their singles which runs to a whopping 29 tracks (one of them a classy jingle for Coke) . . . although of course there is some crossover if you have earlier compilations.
But this well annotated set – the background to each song explained and placed in context – and it has a repeat play quality. And not just because of the great songs they delivered and the power of their covers (This Empty Place, It's Not True, I Feel Good a personal favourite, Whatcha Gonna Do Bout It, Painter Man, the Easybeats' I'll Make You Happy, Mo'reen).
Outside of those are strong B-sides, Morris' r'n'b soul vocals, John Williams' increasingly impressive guitar playing and the band writing their own material.
They moved from sub-Merseybeat pop (So Much in Love With You) and MOR soft-pop (Long Ago, Far Away) to tougher material around late '66 when they covered the Who's It's Not True (and began giving the Small Faces and Animals a run for their money). Then they got into more ambitious arrangements (the B-side Stormy Winds, the terrific orchestrated pop of Dream Time).
In fewer than two years Larry's Rebels had five top 10 singles (Mo'reen in at 11), among them Let's Think of Something which won writer Roger Skinner the APRA Silver Scroll.
Yes, most of these songs were covers but – like the La De Das and others – Larry's Rebels put their own stamp on most and their producers (especially Russell Clark, and engineer Garth Benfell) gave them real sonic punch. Check the swirling firepower and energy behind I Feel Good and it's B-side Whatcha Gonna Do Bout It, and the psychedelic fuzz of Painter Man which was their first chart hit.
A great band well served by this collection.